*Updated April 5, 2019
College is expensive, but it may be possible for you to get financial aid in the form of grants, scholarships and loans. So, you should definitely apply for financial aid. You can save yourself up to tens of thousands of dollars each school year by applying for financial aid.
Here are 8 steps to help you with your financial aid application.
Step 1: Know your forms
Before you begin your financial aid application journey, you should know which forms you are required to fill out. Become familiar with these forms as they will be the forms you need.
The Free Application for Federal Student Aid (FAFSA) is the most popular application among college students. The federal government provides over $120 billion in federal grants, loans and work-study funds to more than 13 million students nationwide.
In addition to the FAFSA, some universities may require students to fill out a separate form created by them. These additional financial aid forms may be required to account for extenuating circumstances that may not be taken into account by the FAFSA. They may also be required to provide a more accurate financial aid package for their students, such as a financial aid appeal form and a university financial aid form.
Step 2: Know your deadlines
Keep track of the due dates for your financial aid forms, including the FAFSA deadlines, to avoid the risk of not being granted university and government aid. The federal FAFSA deadline for 2019-20 online applications is June 30, 2020, but colleges and states have their own deadlines as well.
Add the dates to your Google Calendar, or phone calendar, and set a reminder for at least a month before they are due, so you can easily plan ahead and keep track of the deadline. If you tend to procrastinate, you may even want to set a few reminders for varying dates.
Never submit any financial forms late. Late filing of the FAFSA may render you ineligible to receive state-funded aid and federal aid. If you are late submitting your university's financial aid forms, you may become ineligible to receive university aid, including grants, or even worse, lose your financial aid eligibility.
Step 3: Set up a time to complete the form
Financial aid forms usually take students about an hour long, but actual time will vary by student. You should allot enough time to complete the form. If you aren't completely sure on how to fill out the necessary financial aid forms, reach out to your parents, guardians, and/or an administrator to help you complete the forms and get the aid you need.
FAFSA has moved up its submission timeframe beginning with the 2017-18 FAFSA. For the 2019-20 school year, students can submit their application as early as October 1, 2018. Don't wait until the last minute!
Step 4: Collect all necessary documents
FAFSA gives students three filing options. You can apply online, complete a PDF form and mail it, or request a paper form by calling the FAFSA office. Whichever option you choose, you need to have all necessary documents to complete and submit the form.
You will need to gather:
Your Social Security Number;
Your Alien Registration Number (if applicable);
Most recent Federal Income Tax Returns, W-2s, and other records of money earned;
Bank statements and records of Investments (if applicable);
Business tax Income (if applicable);
Records of Untaxed Income (if applicable); and/or
If you are a dependent student, you will need your parents' information on the above categories as well.
Step 5: Complete and print a copy of your form
Now that you have done everything to prepare to fill out the application, fill it out! It should take approximately one hour to complete. The FAFSA is sorted into five main sections:
Student Financial Information;
Parent Information (if required); and
Student Household Information.
The FAFSA asks many important and necessary questions about your family, personal status, and financial status. Make sure that you have answered all questions accurately.
If you need to complete your university's separate financial aid form, do so along with the FAFSA since some questions on both applications may overlap. By completing the two forms together, you can refer to the FAFSA for the necessary information.
Complete your forms and make a copy of both your FAFSA and your university's financial aid form, if applicable, for your own record.
Step 6: Copy or scan all required documents to submit to your university (if required)
If your university's financial aid office requires you to submit certain forms, collect them, make copies, and then mail the copies to your university with your application. Never send original financial or personal documents in case they get lost.
Step 7: Review all forms and documents
Be careful when you're filling the application, so you don't make a single mistake. Changing one digit or adding an extra digit can make a huge difference in aid, and checking the wrong box can result in you not being eligible for aid. Be sure to review your forms and documents carefully.
Step 8: Submit your application
Once you have reviewed your forms, they are ready for submission. Remember, the earlier you submit it, the better!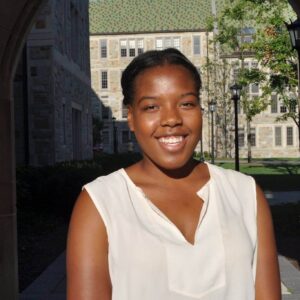 Vanessa Sewell is studying Economics and Communications at Boston College. She is from Bronx, NY. Vanessa has worked on topics related to lifestyle, fashion, culture, and education during her time at Boston College. During her free time, she can be found playing piano and guitar or jamming to Spotify.