You started your studies with an intention to be an A-student, right? We all want to study as much as possible and achieve great results. We want to be part of prestigious colleges and universities. We want success. That's not a crime.
However, the educational system won't let you have that success easily. You'll have to attend long, boring lectures, prove your arguments in discussions, and write many papers that present you as a high-achieving student. Let's focus on the papers, shall we? If you ask any student, you'll get the same answer: "there's too many of them."
How do you manage to write an essay for sociology class, a book review, a lab report, and a research paper for history class in the same week? Each professor will tell you they gave you a reasonable deadline for the assignment, but they wouldn't have considered the fact that you have other papers to write, too.
These papers are an important part of the final grades, so it's only natural to be stressed out by them. Relax! That's the first thing you need to do. Repeat this to yourself: "I can do it!"
How? That's why we're here for today. We'll list 6 convenient essay writing resources that will help you complete great papers.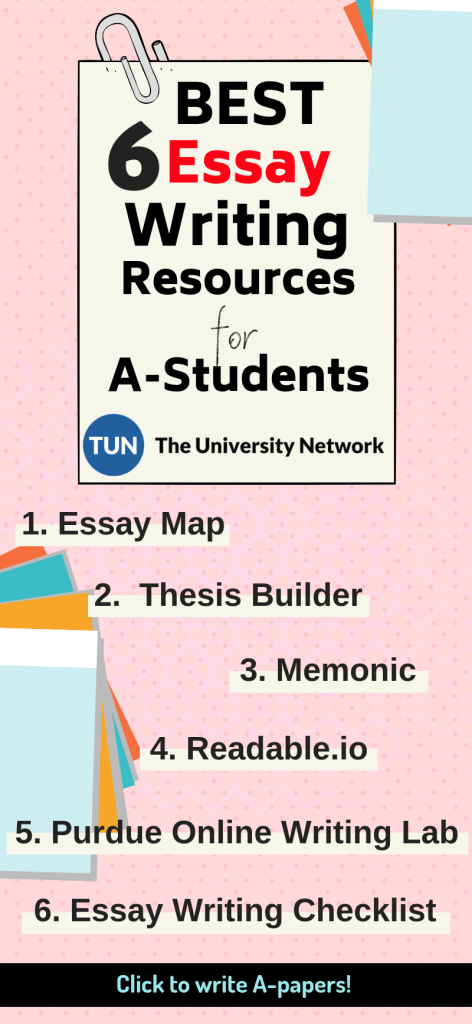 When you invest some time and effort into an outline, the writing process will be much more effective. First, you need to get some ideas for a thesis, arguments, and conclusion. You'll put those ideas together in an outline, which will guide your thoughts. It won't allow you to make unnecessary digressions from the main thesis.
Essay Map is a great tool that teaches you how to craft that outline. It gives you main points to consider for each part of the paper. If you follow the instructions, you'll get an organized outline that's ready to be transformed into an essay.
Your thesis statement is a carrier of the entire paper. If it's strong, it will lead you in the right direction. It's also the most difficult part to write. Use this tool, which tells you how a great thesis statement should look like.
First, go through the instructions to understand the basics. Then, fill in the blanks and the tool will help you build a thesis. It may not be perfect, but you'll polish it out with minor revisions.
Every A-student knows: when they are trying to write a believable essay, they have to support the arguments with facts and examples. For that purpose, you collect different sources of information. You need to keep track of those resources. Otherwise, you'll be unable to reference them all, and that will lead to plagiarism – that's something you don't want in your paper.
Use Memonic to keep bookmarks and notes for every single source you use. It will make referencing easy.
Academic writing tempts you to write long sentences. You want to look smart by using big words. Sometimes the ideas are too complex to express in plain words. But, are those sentences readable enough? The main goal of academic writing is to convey your ideas to the reader. If you confuse the professor, they won't give you an A.
Use this tool to check the readability score of your paper. If necessary, make improvements towards clarity.
There are many online guides that give you tips on academic writing, but this is the ultimate one. It provides actionable tips on how to handle every single aspect of the paper. You'll get brief lessons on general and academic writing, and detailed tips on how to develop paragraphs, logic, arguments, conciseness, and more.
It will take some time for you to explore this guide in every detail, but it's worth the effort. If you follow it, you'll definitely start writing better essays.
Once you write the essay, you'll have to edit it very carefully. This is the tool to help you with that stage. It tells you what you need to check to get a good essay. It reminds you about the length, clarity, spelling, and all other aspects you should evaluate during the editing process.
[divider]
There you have it – the ultimate toolkit an A-student needs for writing papers. Are you ready to give some of these tools a try? Remember: the sooner you start working on that essay, the more successful it will turn out. Good luck!
[divider]
RELATED: 6 Simple Tips to Study Effectively | Online Survival Tools For PhD Thesis Writing