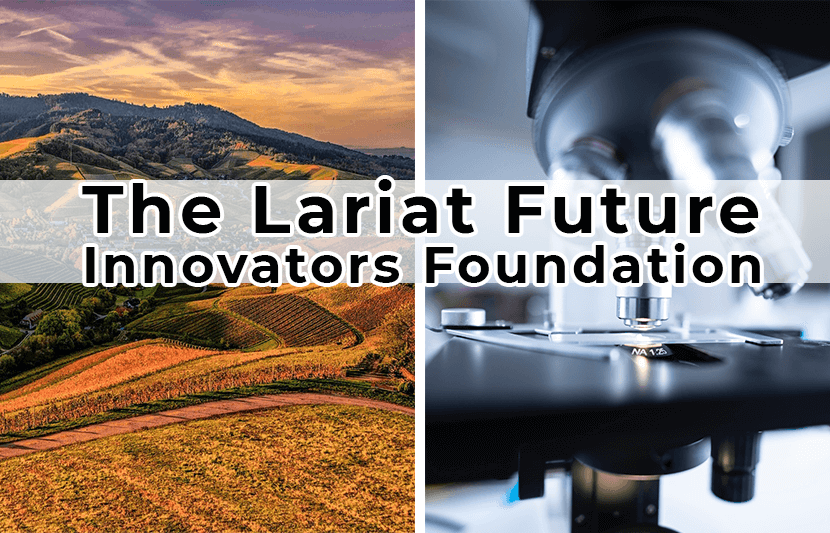 The Lariat Future Innovators Foundation has a mission of helping the next generation of STEM students who have financial needs to reach their goals. In this second year of their scholarship program, the Lariat Future Innovators Foundation has expanded the program across the United States.
Scholarship Amount
Scholarship Amount: A total of up to four awards will be granted, with varying amounts as follows:
High School Senior: Up to $30,000 as follows:

$6,000 for freshman year, renewable annually for three (3) additional years at $6,000 as a sophomore, $8,000 as a junior, and $10,000 as a senior if the student continues to meet eligibility requirements.

College Junior: Up to $18,000 as follows:

$8,000 for junior year, renewable for one (1) additional year at $10,000 as a senior if the student continues to meet eligibility requirements

College Senior: $10,000
Eligible Recipients
Students who will be a college freshman, junior, or senior at the start of the 2022/23 school year and who:
Reside in a rural area (town or city with a population less than 25,000) in the United States and is an eligible zip code as set forth below;
Come from families with less than $55,000 in household income as shown on their FAFSA form;
Are between the ages of 18 and 24 in the school year that their school receives the scholarship funds; and
Are pursuing a degree in any of the Eligible Stem Majors listed here:
Eligible STEM Majors
Acoustics
Aeronautical/Aerospace Engineering Technology/Technician Automotive Engineering Technology/Technician
Aeronautics/Aviation/Aerospace Science and Technology, General. Cytotechnology/Cytotechnologist.
Aerospace Physiology and Medicine
Aerospace, Aeronautical and Astronautical/Space Engineering Agricultural Engineering
Air and Space Operational Art and Science.
Air Science/Airpower Studies.
Algebra and Number Theory
Analysis and Functional Analysis
Analytical Chemistry
Anatomy
Animal Behavior and Ethology Wildlife Biology Zoology/Animal Biology, Other. Genetics, General
Animal Genetics
Animal Physiology
Applied Mathematics, General
Applied Mathematics, Other. Statistics, General
Aquatic Biology/Limnology
Architectural Engineering
Architectural Engineering Technology/Technician
Astronomy
Astronomy and Astrophysics
Astrophysics
Atmospheric Sciences and Meteorology, Other. Chemistry, General
Atomic/Molecular Physics
Automation Engineer Technology/Technician
Biochemistry and Molecular Biology
Biochemistry Biophysics
Biochemistry, Biophysics and Molecular Biology, Other. Botany/Plant Biology
Bioengineering and Biomedical Engineering
Bioinformatics
Biological and Biomedical Sciences, Other.
Biological/Biosystems Engineering
Biology Technician/Biotechnology Laboratory Technician
Biotechnology
Biomedical Sciences, General
Biomedical Technology/Technician
Biostatistics
Botany/Plant Biology, Other.
Cardiovascular Science
Cell Biology and Anatomy
Cell Physiology
Cell/Cellular and Molecular Biology
Cell/Cellular Biology and Anatomical Sciences, Other. Microbiology, General
Cell/Cellular Biology and Histology
Ceramic Sciences and Engineering
Chemical and Biomolecular Engineering
Chemical Engineering
Chemical Engineering, Other.
Chemical Physics Environmental Chemistry Forensic Chemistry
Chemical Process Technology
Clinical and Industrial Drug Development. Pharmacoeconomics/Pharmaceutical Economics.
Clinical Laboratory Science/Medical Technology/Technologist. Medical Scientist
Computational and Applied Mathematics
Computational Biology
Computational Mathematics
Computational Science.
Condensed Matter and Materials Physics
Conservation Biology
Construction Engineering
Developmental Biology and Embryology
Ecology
Ecology and Evolutionary Biology
Ecology, Evolution, Systematics and Population Biology, Other. Molecular Medicine
Electromechanical and Instrumentation and Maintenance Technologies/Technicians, Other.
Electromechanical Engineering
Electromechanical Technology/Electromechanical Engineering
Elementary Particle Physics
Endocrinology
Engineering Chemistry
Engineering Mechanics
Engineering Physics/Applied Physics
Engineering Science
Engineering Technologies and Engineering-Related Fields, Other. Biology/Biological Sciences, General
Engineering Technology, General
Engineering, General
Engineering, Other.
Entomology
Environmental Biology
Environmental Toxicology
Environmental/Environmental Health Engineering Materials Engineering
Epidemiology
Evolutionary Biology
Exercise Physiology
Forensic Science and Technology
Forest Engineering
Genetics, Other.
Genome Sciences/Genomics
Geological/Geophysical Engineering
Geometry/Geometric Analysis
Human Biology.
Human Computer Interaction.
Human/Medical Genetics
Immunology
Industrial Engineering
Industrial Radiologic Technology/Technician
Inorganic Chemistry
Instrumentation Technology/Technician
Manufacturing Engineering
Marine Biology and Biological Oceanography
Marine Sciences
Materials Chemistry
Materials Science
Materials Sciences, Other.
Mathematical Biology
Mathematical Statistics and Probability Mathematics and Statistics
Mathematics and Statistics, Other.
Mathematics, General
Mathematics, Other.
Mechanical Engineering
Mechanical Engineering/Mechanical Technology/Technician
Mechatronics, Robotics, and Automation Engineering Biochemical Engineering
Medical Informatics
Medical Microbiology and Bacteriology
Medicinal and Pharmaceutical Chemistry
Metallurgical Engineering
Microbial and Eukaryotic Genetics
Microbiological Sciences and Immunology, Other. Zoology/Animal Biology
Microbiology and Immunology
Molecular Biology Molecular Biochemistry Molecular Biophysics Structural Biology Photobiology
Molecular Genetics
Molecular Pharmacology
Molecular Physiology
Molecular Toxicology
Mycology
Nanotechnology
Natural Products Chemistry and Pharmacognosy
Naval Architecture and Marine Engineering
Naval Science and Operational Studies.
Neuroanatomy
Neurobiology and Anatomy
Neurobiology and Behavior
Neurobiology and Neurosciences, Other.
Neuropharmacology
Neuroscience
Nuclear and Industrial Radiologic Technologies/Technicians, Other. Chemical Technology/Technician
Nuclear Engineering
Nuclear Physics
Nuclear/Nuclear Power Technology/Technician
Ocean Engineering
Oncology and Cancer Biology
Operations Research
Optics/Optical Sciences
Organic Chemistry
Paper Science and Engineering
Parasitology
Petroleum Engineering
Pharmaceutical Sciences.
Pharmaceutics and Drug Design
Pharmacology and Toxicology
Pharmacology and Toxicology, Other. Biometry/Biometrics
Physical Chemistry
Physical Science Technologies/Technicians, Other.
Physical Sciences
Physical Sciences, Other.
Physics, General
Physics, Other.
Physiology, General
Physiology, Pathology, and Related Sciences, Other. Pharmacology
Planetary Astronomy and Science
Plant Genetics
Plant Molecular Biology
Plant Pathology/Phytopathology
Plant Physiology
Plasma and High-Temperature Physics
Polymer Chemistry
Polymer/Plastics Engineering
Population Biology
Pre-Engineering
Radiation Biology/Radiobiology
Reproductive Biology
Robotics Technology/Technician
Science Technologies/Technicians, General
Science Technologies/Technicians, Other.
Statistics, Other.
Surveying Engineering
Systematic Biology/Biological Systematics
Systems Engineering
Technology
Textile Sciences and Engineering
Theoretical and Mathematical Physics
Theoretical Chemistry
Topology and Foundations
Toxicology
Virology
Vision Science/Physiological Optics Pathology/Experimental Pathology
Application Process
Applicants must write an essay of 500 words or more on one of two prompts, answer three short questions, and meet residency/income requirements. See online Application Form for details.
Application Deadline
Application is currently closed.
Eligible Small Towns
This scholarship is designed to help students from small towns because those towns often have fewer resources to support students in their higher education journey. The spreadsheet below lists the eligible zip codes, which are Rural-urban Commuting Areas (RUCA) other than RUCA1.
Applicants must reside in a town that has an Eligible Zip Code.