Mywater-Flint, a joint project between University of Michigan-Flint and the Michigan Data Science Team at the University of Michigan-Ann Arbor, was launched December 8.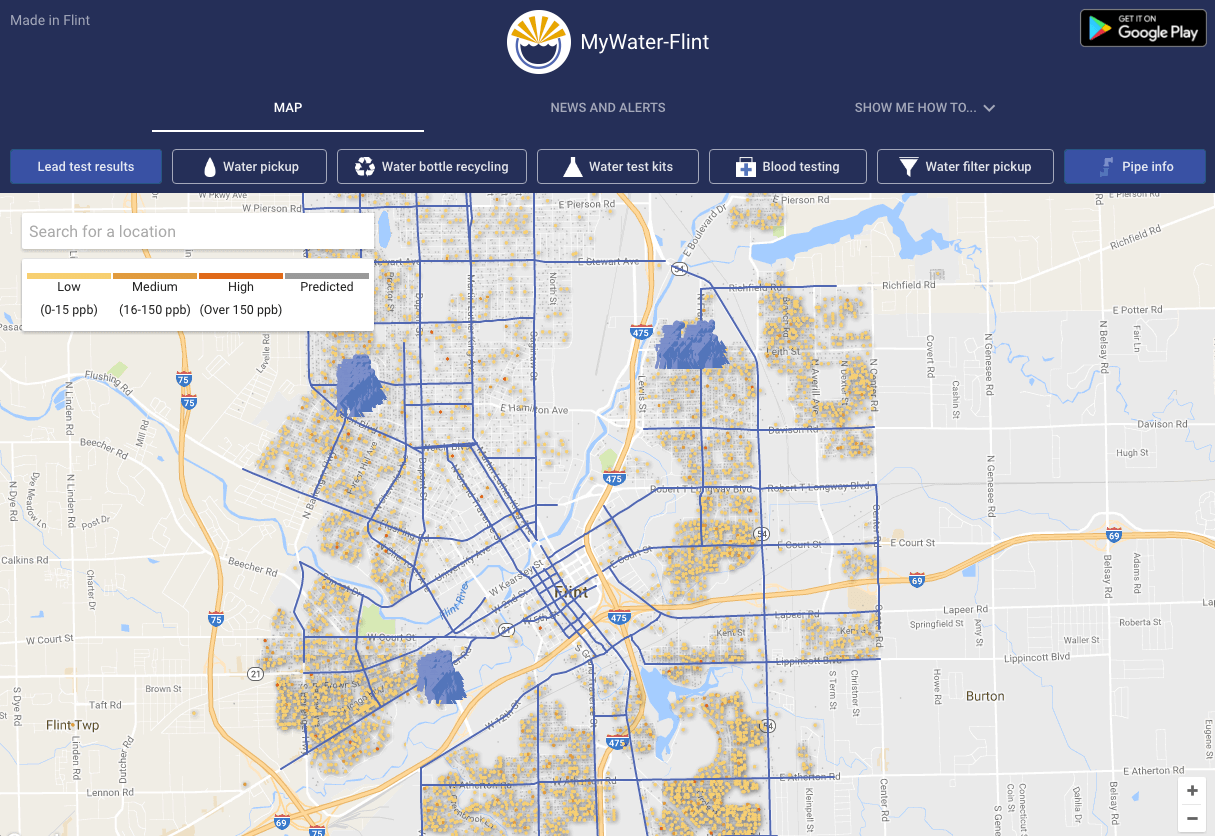 The mywater-flint web app– a direct response to the Flint water crisis (in which dangerous levels of lead were found in the city's water supply)— displays a map of the city where users can find the latest water information and resources like the lead test results, water test kits and instructions on how to install water filters.
The Flint water crisis, however– and the response that is this product— is not just about clean water. It's about transparency. Acknowledging the need to regain the trust of the Flint residents, the developers of the web app sought to proactively research and disclose previously undetected information, like which homes have a high risk of lead contamination and where lead pipes are buried underground or hidden.
"We'd like to bring the key information to the citizens of Flint as clearly as possible," the developers noted.
Alex Chojnacki, student and TA at the University of Michigan, and a member of the MDST, further explained the goals and visions of this team effort:
"Although most of the voluntary residential water testing data was public, very little formal analysis had been performed on it. We were optimistic that there was some way to leverage our engineering knowledge to aide Flint, and this seemed like the best use of our skills at the time."
There were, however, challenges from the get-go:
"It is always better to have more data, but it can be just as important to have accurate data. This is not always the case when working with the data from Flint. Old records had to be hand-transcribed into digital format, meaning errors could occur. For instance, we found that city records denoting service line material were inaccurate with unfortunate consistency. At the time of our analysis, 35 service lines (listed as "lead") had been excavated, but of that, only 24 were actually made of lead. There is, of course, a silver lining there: fewer lead lines is a good thing, but training a predictive model on faulty data leads to poor performance."
Alex added: "there is some traditional wisdom in data analysis: 80% of your time will be spent cleaning, wrangling, formatting, fixing, or otherwise preparing your data for reasonable analysis. This was the first project where I learned that first hand."
Another important lesson learned was the necessity of teamwork.
"This was a joint effort, not just within MDST, but between Google.org and UM-Flint as well. Some of us are better at analysis, others at modeling or software engineering. Our variety of members continue to contribute in unique and meaningful ways, and without any one of these groups this project would not have been possible."
Other Ways The School and Its Students Are Helping The Community
The University of Michigan-Flint, in addition to "taking all necessary measures to ensure drinking water on campus is safe, filtered, and regularly tested," feels that it is both an obligation and a privilege to be of service to the community in a time of need. That's why its faculty, staff, and students are actively working in the community to distribute water and filters, volunteering in recovery efforts, and of course, putting their expertise to work through research. Below are just some ways the school is helping the community.
Campus hosted the first large-scale community filter distribution in October 2016, giving out 3,000 filters in a single day.
Public Health and Health Sciences is providing a course on the Flint water crisis free of charge to the community
Nursing faculty and students are committed to providing free lead screening until 100 percent of at-risk children are tested
Expert health and safety staff as well as faculty serve on a number of community boards that have been leading voices in identifying and now responding to the water crisis.
All three campuses of the University of Michigan are coming together to provide faculty expertise and U-M President Mark Schlissel has provided $100,000 in seed funding for university faculty research initiatives.