Water makes up 65 percent of our body mass, and we can't survive more than 3 days without it. Yet our water is in jeopardy, mostly from problems we created.
In this article, we address the urgent need for action — to ensure access to safe water, to preserve the planet's freshwater, and to fix the problems we created. We also address the role that universities have in this fight and highlight some of the progress being made around the world.
[divider]
Need for safe water
Many of us take safe drinking water for granted, but that is not the case for 780 millions of people around the world.
Lack of safe water leads to diseases and even deaths. In fact, unsafe drinking water causes more deaths each year than violence and war. Every minute, a child dies of a water-related disease.
[divider]
Lack of access to safe water also causes other collateral damage, including:
Economic losses

– Contaminated water affects the greater economy. In the U.S.,

nutrient pollution

in water alone exacts a financial toll.  The

Environmental Protection Agency

(EPA) estimates that cleaning polluted water bodies could cost billions of dollars. Nutrient pollution in water costs the U.S. tourism industry almost $1 billion in losses each year. Damage to fishing and shellfish industries are estimated by the EPA to reach tens of millions of dollars.

Absenteeism from school – Water-related illnesses like diarrhea lead to absences at school. It is estimated that 443 million school days are lost each year.
Adverse impact on women and girls in many countries

–

Lack of access to safe water disproportionately impacts women and girls in many countries who often have to fetch water from sources far from where they live. In many cases, they spend s

everal hours a day collecting water.
[divider]
Need for sustainable water management
Groundwater is the largest source of freshwater around the world.
In the U.S. alone, groundwater is the source of drinking water for 51 percent of the total population and 99 percent of the rural population, according to The Groundwater Foundation. A significant portion of the country's groundwater (64 percent) is used to satisfy its agriculture needs.
Unfortunately, groundwater is being rapidly depleted in many parts of the the world, including the U.S., primarily due to overpumping of the aquifers. Aquifers are underground layers of water-bearing permeable rock or loose materials, such as gravel, sand or silt, from which groundwater can be extracted using a water well.
Groundwater is being depleted so fast that up to 1.8 billion people could be affected in less than 35 years.
For example, aquifers in India, southern Spain and Italy could be depleted between 2040 and 2060, while those in California's Central Valley, Tulare Basin and southern San Joaquin Valley could be depleted sooner than that.  
Depletion, however, is not the only threat to groundwater.
Other threats include:
Contamination from storage tanks, septic tanks, hazardous waste, landfills, chemicals and road salts, atmospheric contaminants;

Contamination from nitrates caused by

runoff from fertilizers, improperly disposed sewage, leaking septic systems, industrial waste, food processing waste, and erosion of natural deposits;

Contamination from pharmaceuticals and personal care products from flushing those products, bathing or swimming, discharge from sewage systems etc.;

Contamination from improperly managed on-site water treatment systems;

Hydraulic fracturing

(hydrofracking, fracking or hydrofracturing); and

Microplastics from

microbeads in cosmetics and soaps

and breakdown of larger plastics.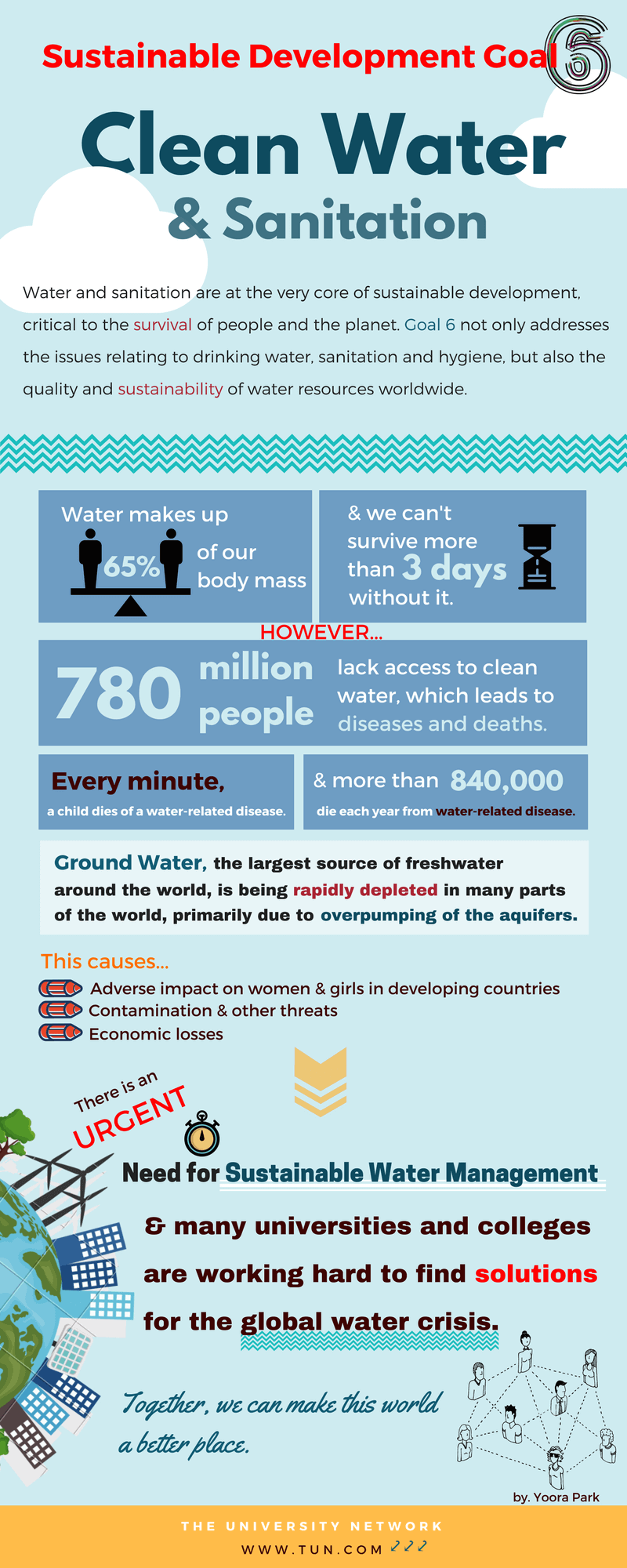 Universities' efforts
Recognizing the gravity of the threat, many universities and colleges are working hard to find solutions for the global water crisis. We highlight some of their accomplishments here.  
[divider]
1. University of Minnesota
Last month, University of Minnesota announced the successful creation of a "super sponge" by Professor Abdennour Abbas and his lab team.
The sponge can absorb mercury from polluted waters within seconds. Mercury is a neurotoxin that can cause serious health issues.  
Abbas and his team used nanotechnology to develop a sponge that can absorb mercury from polluted waters almost instantaneously.
The sponge acts very quickly; it can remove mercury from tap and lake in less than 5 seconds, while removal from industrial waste takes just 5 minutes. That means, it would take only a basketball-size sponge to clean Como Lake in Minnesota if it were contaminated with mercury.
The team has filed 3 patents on the technology.
How does the sponge work its miracle?
The university did not publish details, but the process was described in the Star Tribune. The technology uses selenium, an agent that binds mercury, to absorb mercury from contaminated water and makes the mercury harmless so the sponge can be disposed of safely.
How did Abbas and his team come up with the technology?
According to the Star Tribune, other researchers had experimented with selenium unsuccessfully, but Abbas thought a sponge would work if selenium could be grown on it using nanotechnology. He handed the project to his graduate student Snober Ahmed, who succeeded not only in growing selenium outside a sponge but inside it as well.  
The technology was the result of years of hard work. Ahmed told the Star Tribune that it took two years just to come up with a solution to make the absorbed mercury safe for disposal.
The new technology will help Minnesota, where mercury contamination in water is a serious concern.
The Star Tribune reported that Abbas was in fact "inspired in part by news reports that one in 10 infants born on the North Shore of Lake Superior have unsafe levels of mercury in their blood."
To date, the sponge has been tested in a lab setting only. But TUN was told that the team is ready to test the efficacy of the sponge in the real world.
"We hope to start field-testing the technology with our industrial partners by the end of the year, if we receive the support needed," said Abbas.
The "super sponge" has many potential applications that could save our waters and also reduce cleanup costs. 
According to the Star Tribune, Abbas and his team plan to use the same principle to develop sponges that would remove other pollutants from water, including lead and arsenic, nitrates and phosphorus.
In fact, they are close to a solution for phosphorus.
The Star Tribune spoke with John Tucci, president of Lake Savers, a Michigan company that touts a natural, sustainable way to renew lakes, who is specifically looking for a solution to remove phosphorus.
"I got very excited about the opportunity to field-test the technology and see how far it can be taken," Tucci told the Star Tribune.
The technology will be a boon to the world at large.
Abbas gave TUN his opinion on using technology to save the environment. 
The development of efficient and cost-effective technologies like this one is the best way to reduce both environmental pollution and the cost of remediation for the industry. It is the best way to ease our disagreements about environmental regulations, and that is why we need more funding for science and engineering.
[divider]
2. University of Rhode Island
The College of Engineering at The University of Rhode Island has two faculty members dedicated to clean water projects.
Assistant Professors Vinka Oyanedel-Craver and Ali Akanda are both researching "better ways to provide potable water and stop pollution from contaminating water supplies."
They are dedicated to their mission of bringing safe water to local communities in many different parts of the world.
Here is a brief summary of their efforts and accomplishments.
Professor Carver's Projects
Professor Craver has focused her research on cheap ceramic filters to clean water in remote villages around the world.
In Guatemala, Craver and her students help residents design plants for manufacturing the filters and also visit homes to teach residents how to use the filters.
In the past 8 years, more than 30 students have accompanied Craver on field trips to Guatemala. Most of these students were undergraduates.
Other countries also stand to gain from Craver's efforts. She is involved in research in Jordan with one graduate student, in South Africa with two graduate students, and in the Dominican Republic with three graduate students.
One of her students, Ryan Sullivan, is currently collaborating with the University of Johannesburg, South Africa, to test portable water treatment systems.
Craver told TUN she believes in working with users to solve their water problem.
Water treatment research is more relevant and can be successfully implemented in communities if we work with users addressing their unique needs and concerns. The experience that students gains in this type of setting is extremely valuable in the career and provides them with a global vision of water challenges in our society.
Professor Akanda's Projects
Professor Akanda uses his expertise in computer modeling and his water-related research to create early warning systems. 
He is involved in many projects around the world.  
In Bangladesh, the only country for which the entire population is considered to be at risk for cholera by the World Health Organization, Akanda is partnering with various water and public health non-governmental organizations to study the cholera-water environment and provide early warning for users of the infected water source.
In Mexico, Akanda has teamed up with political science faculty to understand issues concerning water and water rights, which lead to poor management of water source, water scarcity and risk of dengue. Dengue is a disease transmitted by mosquitoes.  
Akanda also has 5 graduate students working on the following topics:
groundwater depletion in Saudi Arabia;

water-energy nexus in Rhode Island;

cholera-water dynamics in Bangladesh;

dengue-water link in Puerto Rico and Mexico; and

global water issues/Public health Sustainable Development Goals.
Research in Saudi Arabia involves the degree of groundwater depletion, recharging capabilities, and patterns of water usage. Othman Fallatah, the graduate student involved in the research, will be travelling to Saudi Arabia this summer to collect data for the project.
Akanda spoke to TUN about the implications of climate change on the planet's water and the importance of collaboration for a solution.
"Climate change will have a profound impact on available water quantity and quality, which, in turn will affect public health and sustainable development," he said.
"We are taking an inter-disciplinary approach to combine our expertise in water, climate, health, and social sciences to ensure water security for vulnerable populations."
Joint projects
In addition to their individual efforts, Craver and Akanda are collaborating to start a project in the Dominican Republic, which will focus on the implementation of small water treatment systems for drinking water and the vulnerability of these systems to the vagaries of the climate there. They will be assisted by Kayla Kurtz, a graduate student at the university.
The two professors have also been supported in the past by faculty and students from the College of the Environment and Life Sciences, who have helped villages in India, Jordan and Kenya protect clean water sources.
The university has also formed an interdisciplinary program known as "Water: Engineering, Economics, Science, and Society" or simply Water:E2S2.
Faculty from 4 colleges (College of the Environment and Live Sciences, College of Engineering, College of Art and Sciences, and the Graduate School of Oceanography) will work together to teach and address global water problems.
[divider]
3. University of Chicago
In March 2017, University of Chicago announced the expansion of the Water Research Initiative at its Institute for Molecular Engineering (IME).
The initiative was launched in 2013 together with the Argonne National Laboratory, a multidisciplinary science and engineering research center, and Ben-Gurion University of the Negev in Israel.  
The planned expansion of the initiative began with the hiring of Professor James Skinner earlier this year because he is "the world leader in the theoretical and conceptual understanding of hydrogen bonding in water."
Skinner believes that water is a critical issue.
"Research on water is extremely timely," he said in a statement. "We have an opportunity here to make a difference on a global scale."
Skinner will hire 5 scientists or engineers to head research projects on various water-related topics, including:
the production of clean water;

using water as a source of energy;

studying water's role in mitigating climate change; and

understanding water's role in biology and medicine.
The initiative's research will involve many disciplines.
"This truly is an interdisciplinary effort," Skinner said in a statement.
"Engineering, chemistry, biology, physics: It is no stretch to say that you have to bring all these disciplines to bear on these problems. It's exciting to be involved in something that's so cross-cutting."
[divider]
4. Queen's University, Canada
In February 2017, Queen's University, located in Kingston, Ontario in Canada, received Can$5 million for research and education in the field of freshwater resources from Ross J. Beaty, a geologist and entrepreneur, whose 2 children graduated from the university.   
The gift will help the university expand its water research program.
"Researchers from across Queen's are working with partner institutions and organizations to tackle a variety of water-related issues," Principal Daniel Woolf said in a statement.
"Mr. Beaty's donation will support a new home for water research where faculty and students can come together and take the lead in sustaining one of our most precious resources."
The new Beaty Water Research Centre will involve researchers from many disciplines, from civil and chemical engineering to chemists, microbiologists, genetics experts, and public health researchers.
"Interdisciplinary teams such as the water research centre at Queen's are the way of the future," Beaty said in a statement.
"I hope that through my gift, these collaborative activities will grow and thrive, providing researchers with the support they need to give our future generations a world they deserve."
The initiative will focus on safe drinking water, which is not currently available to millions of people around the world, including parts of Canada.
"A key focus will be on safe drinking water from small, untreated systems or untreated urban or rural domestic wells. This work has the potential to improve the lives of millions of people around the globe. In Canada, the research directly impacts those living in vulnerable remote communities, including Indigenous Peoples," Kimberly Woodhouse, Dean, Faculty of Engineering and Applied Science, said in a statement.
"Thanks to Mr. Beaty's support, our researchers and students will be better equipped to understand and mitigate the risks to drinking water supplies."
[divider]
Brief summary of other projects
There are many universities and colleges that conduct water-related research. We list below a few other notable water research projects.
Wartburg College has the

Water to Thrive

program whose mission is to bring clean, safe water to those who need it in rural Africa. Over the past 5 years, the program has been involved in over 500 projects and helped over 270,000 people.

The

Water Resources Research Center

at the University of Arizona is focused on key water-related research, including 45 water management activities globally, stretching from Arizona to Israel, under Director Sharon B. Megdal.  

The TAMU Colonias Water Project

at Texas A&M University is involved in the research, production and distribution of affordable ceramic water filters for residents in the Texas colonias and other local and global rural communities. According to the

Texas Secretary of State

, a

colonia is a residential area along the Texas-Mexico border that may lack some of the most basic living necessities, including drinkable water and sewer systems.

[divider]
Conclusion
There is a critical need to provide access to safe water for everyone and to preserve our freshwater sources for future generations. Universities and colleges are certainly doing their part to help solve the water crisis. Their programs drive home the dedication and ingenuity of their research teams and the need for collaboration to find sustainable solutions for the water crisis. The world will be in a better place thanks to the "super sponge," field trips and other research projects conducted by professors and students.