*Updated March 25, 2019
On March 21, President Trump signed an executive order, which, in part, aims to protect free speech on college campuses by threatening to withhold federal research funding to public colleges and universities that don't give a stage to controversial speakers.

"We will not stand idly by and allow public institutions to violate their students' constitutional rights," Trump said before signing the executive order in the East Room of the White House. "If a college or university doesn't allow you to speak, we will not give them money. It's very simple."

Clearly, Trump's threat to cancel research funding to protect free speech is attention-grabbing, but free speech on campus makes up just a small portion of the executive order.
Request for transparency in higher education

The executive order also outlines the White House's plan to make college more affordable and transparent.

It puts pressure on universities to share information on the earnings and average loan repayments of alumni who received federal student aid.

According to the White House, this information will help individuals make the best educational choices on which college to attend or major to enroll in, based on their specific needs, interests and circumstances. Making this information available will also, according to the White House, "encourage institutions to take into account likely future earnings when establishing the cost of their educational programs."
Trump's request for transparency in higher education, however, is not an entirely new concept.
It falls in line with ideas presented in the College Transparency Act, which recently has garnered widespread, bipartisan support.
In essence, Trump's executive order could serve as the first building block to making higher education more transparent, and it could pave the way for the more comprehensive College Transparency Act.
It should not, however, stand on its own, according to Peter McPherson, the president of the Association of Public and Land-grant Universities (APLU).
"It's critical that Congress pass the College Transparency Act, which would lift the student-level data ban," McPherson said in a statement. "Doing so would enable the reporting of much more comprehensive and useful data, including outcomes for all students, not just those who receive federal aid. Because of the student-level data ban, the 39 percent of college students who don't receive federal financial aid are excluded from the Department's earnings data … All students count and should be counted."

Free speech on campus

However, the transparency section of the order, which would be beneficial to students, is overshadowed by Trump's threat to withhold research funding to public colleges and universities.

"Every year the federal government provides educational institutions with more than $35 billion in research funding," Trump said during the signing event. "All of that money is now at stake. That's a lot of money."

Public colleges and universities, however, already have laws in place that protect free speech, no matter how controversial or offensive it is — making Trump's order seem more like a plea to his base than an effort to extend campus speech.

Often, when a speaker is run off the stage or not permitted to speak, it is due to student protest, not university overrule.

Trump made a similar threat when student protesters at UC Berkeley forced the cancellation of a speech by a far-right Breitbart News editor in 2017. He attributed the action to the university itself, though.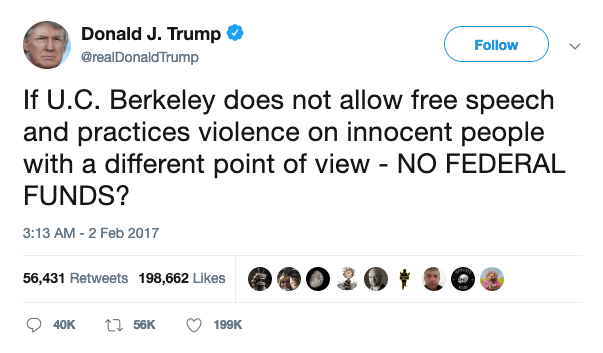 "Protecting free speech does not mean speakers are protected from hearing the voices of protesters," said Billie Murray, a rhetorical activist scholar and an associate professor of communication at Villanova University. "And it doesn't mean threatening universities when their students speak out against speakers they disagree with."

And if extending free speech is Trump's priority, limiting research funding may not be the best approach.

"Threatening research funding to universities is dangerous, and ironically, would serve to silence researchers' free speech," said Murray. "Such a move would prevent researchers from conducting and disseminating their research findings — the communication of which is vital to the public sphere."

During the signing event, Trump stated that he is trying to deliver "a clear message to the professors and power structures trying to suppress dissent and keep young Americans, and all Americans, . . . from challenging rigid, far-left ideology."

But to Murray and others, it is the assumption that students are so easily indoctrinated that is most concerning.

"Trump's claim that he is standing up to the forces of political indoctrination assumes that students are incapable of forming their own opinions and thinking critically about the ideas they encounter," Murray said. "These students are not children, they are adults. They can vote and they are perfectly capable of hearing ideas and engaging in thoughtful critiques of them, on either side of the partisan divide. To suggest otherwise is insulting to these students and to our entire educational system."
News & Content Manager
Jackson Schroeder is a graduate of Ohio University with a B.A. in Journalism from the E.W. Scripps School. He is originally from Savannah, Georgia. Jackson has covered a wide range of topics, including sustainability, technology, sports, culture, travel, and music. He plays bass and guitar, and enjoys playing and listening to live music in his free time.