So you are hiring for a position and have completed the first step of creating a job posting (the right way). Now that you've received hundreds of applications, how do you sort through them all? Moreover, how do you ensure that you pick the right candidates?
REVIEWING APPLICATIONS
Before you start reviewing the applications, you should first establish a criteria for assessing the applicants. What are the most important factors – skills, determination/passion, availability?
Then, create a rating system that you and your team can agree on. This is especially helpful when there are multiple people reviewing the same (or different) sets of applications. Uniformity is key!  
As you're reviewing the applications, ask yourself these questions about each applicant:
Does the applicant come across as professional?

Are there errors, grammatical, spelling and otherwise, in the cover letter or resume?

Does the applicant sound confident or entitled? Passionate or desperate?

Do you need this candidate for the job more than he/she needs

a

job?

Does the applicant possess actual, useful skills that you're looking for? (Microsoft and Excel are the bare minimum!)

Did the applicant use the keywords that you used in your job description and title?

Use the "Command + F" search tool to check!

Did the applicant provide all the information that you asked for (and more)?
After reading (or skimming) through each application, give it a rating. Some applications will be easy to discard (e.g., the ones that are unprofessional or ridden with errors). The remaining ones must be carefully and precisely rated, so it will be easier for you to choose a few for interviews.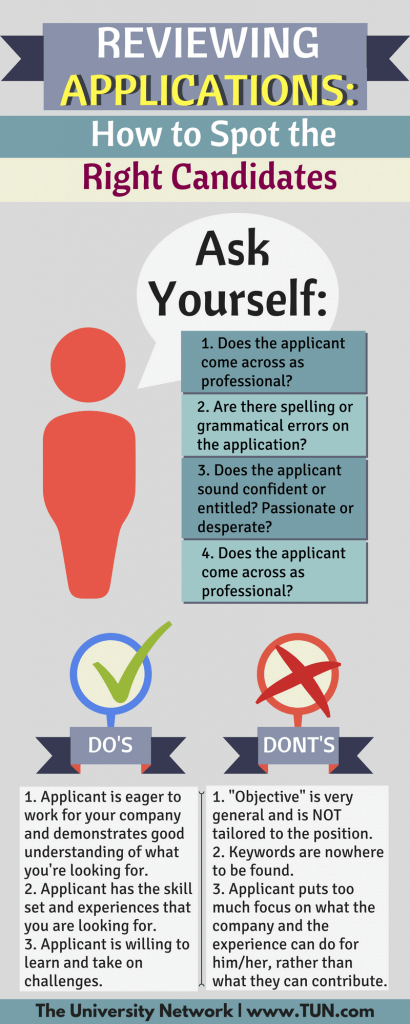 Here are some good and bad signs to detect from the applications:
✔️
Applicant is eager to work for your company, and demonstrates good understanding of what you're looking for.

Applicant has the skill set and experiences that you are looking for.

Applicant is willing to learn and take on challenges.
⛔️
Application/"objective" is very general and NOT tailored to the position.

Keywords are nowhere to be found.

Applicant puts too much focus on what the company and the experience can do for him/her rather than highlighting the ways in which he/she could contribute to the company.
Once you've rated all the applications using the above standards, it's time to pick x candidates from the pool of qualified candidates. Contact the highest-rated applicants first (perhaps those who got a rating of 9.5 or higher?). If, for any reason, you are not able to move forward with them, you can contact the next pool of qualified candidates (maybe those with a rating between 9 and 9.5?).
Do this until you have enough candidates scheduled for interviews. Interviewing them either by phone or in person will get you a step closer to hiring the perfect interns.