College enrollment has increased tremendously over the past 20 years, "almost exclusively" due to a surge in low-income and minority students, according to a 2019 Pew Research Center study.

The study found that out of the nearly 20 million undergraduate students in the 2015-16 academic year, 47 percent were "non-white" and 31 percent were in poverty. This is a significant increase from 20 years earlier, when only 29 percent of undergrads were "non-white" and 21 percent were in poverty.

However, these increases are not happening uniformly across all higher education institutions. Low-income and minority students are primarily enrolling in private for-profit colleges, less-selective four-year colleges, and community colleges.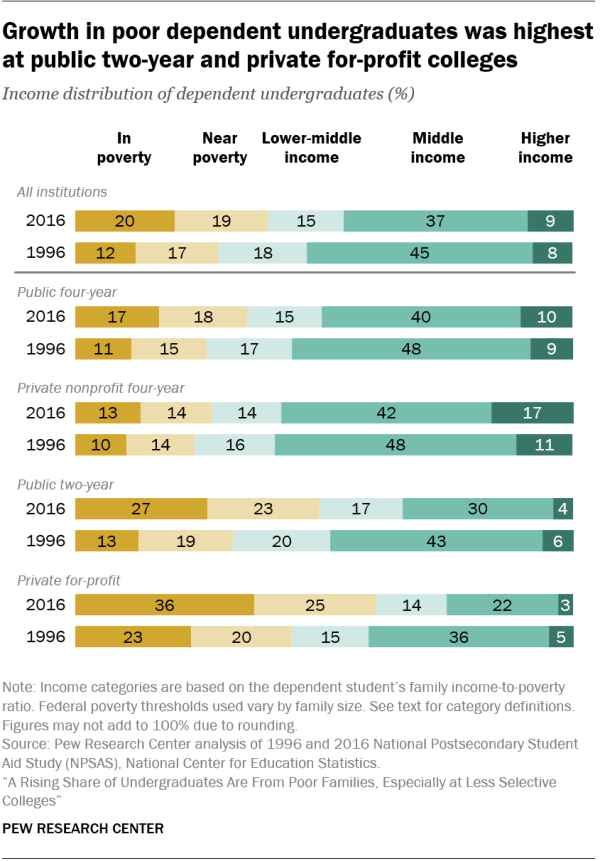 Increases at selective institutions, on the other hand, are more modest.
"The good news is that the nation's higher ed system is becoming increasingly diverse — by family income, race, and ethnicity — and it is reflecting the nation's changing demographics," said Rosa M. García, director of postsecondary education and workforce development at the Center for Law and Social Policy (CLASP).

"The bad news is that we see that students who have experienced poverty and students of color have become more concentrated at private for-profit colleges," she continued.

At private for-profit colleges, a resounding 61 percent of dependent students live in or near poverty, according to the Pew study.

Additionally, for-profit colleges are the only group of higher education institutions listed in the study that enroll a higher percentage of "non-white" students than white students.

On its surface, this may seem like a good thing, but attending a private for-profit college can be a risky decision.

"We know that these are the institutions that have spent billions of dollars on deceptive marketing and recruitment practices to enroll these students," said García. "We know that they are more costly than public institutions. We know that students who attend these schools will accumulate far greater debt levels, and they have higher default rates and lower completion rates."

However, when it comes to community colleges and less-selective four-year colleges, an increase in low-income and minority student attendance is, essentially, a good thing.

"We want to see equity across the spectrum, and we understand that these changes are not occurring uniformly," said García. "However, we don't want to forget about the role that open-access institutions play, such as community colleges, HBCUs, minority serving institutions, and four-year institutions that serve large numbers of low-income students and students of color."

Community colleges and colleges with less-selective admissions policies cater to the non-traditional students in higher education who may have to work or shoulder a large share of family responsibilities.

García notes that is is important to increase investments in these types of institutions, which she considers as "engines of economic and social mobility for low-income students and students of color."

But, clearly, efforts need to be made to continue to increase low-income and minority student enrollment at selective institutions.

So, what can be done to make sure low-income and minority student attendance rates are increasing at similar rates at more selective institutions?

García suggests a couple of measures.

First, she voiced her support of the College Equity Act of 2019, which would authorize grant funding to colleges and universities so they can conduct internal reviews of existing institutional practices, such as admissions, financial aid, campus support services, and more, to identify and address inequities.

Secondly, she suggests that Congress should encourage institutions to eliminate legacy admission advantages and early action and early decision application policies, which she says "favor wealthy students and discourage disadvantaged low-income students and students of color."

And lastly, García proposes that selective colleges and universities should consider expanding the size of their classes and admitting more community college transfer students.