Researchers from the Universities of Glasgow, Stratchclyde, West of Scotland and Galway are using 'nanokicking' technology to grow three-dimensional mineralized bone samples in their laboratory. Broken, sprained, or otherwise damaged sections of bone have long presented challenges for doctors, so this technology is poised to transform the lives of many patients worldwide.
The study is published in Nature Biomedical Engineering.
The research was funded by Engineering and Physical Sciences Research Council (EPSRC), Biotechnology and Biological Sciences Research Council (BBSRC), and Sir Bobby Charlton's landmine charity Find a Better Way, which helps victims of landmines.
Nanokicking was originally engineered for work in the area of gravitation wave detection. But the researchers were able to use the technology to turn mesenchymal stem cells, which are naturally produced by human bodies in bone marrow, into 3D bone cells. The mesenchymal stem cells are taken from human donors, placed inside collagen gels, and subjected to nanokicking, or ultra-precise, nanoscale vibrations. These cells are then converted into a "bone putty" that could be used to repair or replace damaged bone. Basically, the researchers are using nanokicking technology to unlock the potential in our cells to turn into other tissue, such as bone, cartilage, and muscle.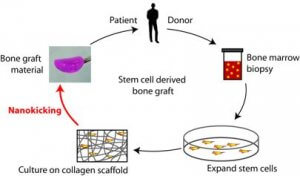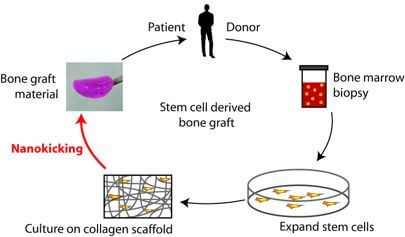 "Having spent 15 years working in astrophysics and gravitational wave detection with the Laser Interferometer Gravitational-Wave Observatory (LIGO), it is amazing to see technology arising that could revolutionise key aspects of tissue engineering and regenerative medicine." Stuart Reid, professor of biomedical engineering at the University of Strathclyde, and formerly at the University of the West of Scotland, said in a statement.
This advancement in bone transplant technology will make a big difference in orthopedic treatments. Of all living tissues, bone is the second most transplanted tissue in the world, second only to blood. Up until now, however, bone transplant have been limited by two factors. First, the amount of living bone that can be harvested from a patient is limited. Second, a human body is likely to reject bone harvested from other donors.
The likelihood of rejection is, however, reduced by the new technology that allows for the use of a patient's own mesenchymal stem cells to generate bone. The ability to grow bone, when combined with the team's novel printed scaffolds, also means that it would be possible to repair larger gaps in bone.
The researchers have recently used their technology to save a dog's leg. "In partnership with Find A Better Way, we have already proven the effectiveness of our scaffolds in veterinary medicine, by helping to grow new bone to save the leg of a dog who would otherwise have had to have it amputated," Matthew Dalby, professor of cell engineering at the University of Glasgow and one of the lead authors of the paper, said in a statement.
If further trials continue to progress in this way, we may be seeing human trials in just a few short years.
"We are aiming for the First-in-Man [transplant] in 2020," Monica P Tsimbouri, research fellow at University of Glasgow's Institute of Molecular Cell and Systems Biology, told The University Network (TUN).
Tsimbouri explained that while human bone transplant "will involve the start of clinical trials initially for small defects," the team will further develop its printed scaffold to make repairs of larger gaps in bone possible. "The technology is expected to move to a larger scale i.e., generation of scaffold implants for larger gap defects," she told TUN.
The team's goal is to help victims of landmines. "That is our driving aim," Tsimbouri said. "We are privileged to be funded by major funding bodies such as EPSRC and BBSRC. We particularly thank Sir Bobby Charlton's charity Find A Better Way that aims to help civilian survivors of landmine blast injuries."
Manuel Salmeron-Sanchez, professor of bioengineering and leader of Find A Better Way project at the University of Glasgow, looks forward to to a future where victims of landmines will benefit from the technology.
"For many people who have lost legs in landmine accidents, the difference between being confined to a wheelchair and being able to use a prosthesis could be only a few centimetres of bone," Salmeron-Sanchez said in a statement.
The research team includes Peter G. Childs, Gabriel D. Pemberton, Jingli Yang, Vineetha Jayawarna, Wich Orapiriyakul, Karl Burgess, Cristina González-García, Gavin Blackburn, Dilip Thomas, Catalina Vallejo-Giraldo, Manus J.P. Biggs, and Adam S.G. Curtis.
Samuel O'Brient grew up in western Massachusetts, though most of his days are spent at Sarah Lawrence College in Westchester, New York. His time there is spent studying business communications and serving as editor in chief of the SLC Economic Review. As a writer, journalist, and blogger, he has written for many different online venues on a variety of topics. When he's not working on his blog, Samuel can often be found sailing, on the golf course, or on the tennis court.