"A diamond is forever," is the iconic tagline from De Beers. But, as we approach 2020, over 70 years after the tagline was first used, consumers are responding, "so is our Earth."

Younger consumers are asking the jewelry industry how they are making their jewelry, where the materials come from, whose lives the process affected and how long it would take to decompose once discarded.

"I think there is more transparency nowadays, more education around our impact as consumers. It is our natural humanity to not want to hurt others," said Zoe Pook, the main designer and CEO of Zoe Pook, a sustainable jewelry brand in Australia. "So, to knowingly buy products that have in some way had a negative impact on the planet or people is innately not something we want to do."

Metals suppliers, retailers, organizations and, most importantly, brands are responding with innovative technologies and higher transparency to help make the industry more sustainable.

Is it really that bad?

The global jewelry industry was valued at $278.5 billion in 2018 and is expected to reach $480.5 billion by 2025.

There are two types of jewelry, fine and fashion jewelry. Although you might think at first how bad could an industry that makes such delicate and tiny products actually be, you'll be surprised by what you read below.

First, for fine jewelry, with its main ingredient being precious metals or gemstones that need to be mined out of the ground, in the strictest sense of sustainability, the product is harmful from the very start.

For a very long time, the industry norm has been to obtain a license, dig the ore, sell the metal and once everything is extracted, go and find another mine elsewhere. This process strips the surface soil, causing soil erosion, soil contamination and sinkholes, and uses toxic chemicals, such as cyanide and mercury, which are used to separate gold from the ore.

For example, to produce a 0.333-ounce gold ring, 20 tons of toxic waste is generated.

On average, according to a report by Earthworks and MiningWatch Canada, gold and other metals mining companies dump at least 180 million tons of toxic waste into rivers, lakes and oceans every year. This is 1.5 times more than the waste that U.S. cities send to landfills every year.

Second, fashion jewelry, which is quickly growing due to fast fashion brands, such as Zara and H&M, are typically made of inexpensive alloys or even plastic, coated to look like metal.
Moreover, for both kinds of jewelries, the supply chain is nearly impossible to be traced back. Unfortunately, particularly for fine jewelry, artisanal mining is still widespread in the poorest regions on earth, such as Africa and Central and South America. Also, these materials pass through so many different hands on their way to the market, again offering little to no traceability.

As a result, the very end users of the product is most likely oblivious as to whether the gold used to make their bracelet was mined in abusive or unsafe working conditions. For example, gold mining in Africa is still mostly an illegal activity.

And historically, militant and violent groups exploited metals and mineral mining to fund their activities, and international trade in minerals often financed and perpetuated human rights violations in conflict regions.

In addition, during the manufacturing process of polishing, laborers breathe in microscopic dust that's very damaging to the lungs.

Lastly, unsustainable packaging leaves heavy carbon footprints.

"No jewelry" isn't the answer

However, it's definitely extreme to say no jewelry is the best cure.

About 100 million people worldwide depend on artisanal mining, which is just a single part of the entire industry, to put bread on their table. A simple shutdown of the industry would deprive them of their livelihood, so it's not a solution.

But consumers are demanding change, as they should, and the industry is responding.

New technologies

First, there are new technologies making sustainable jewelry possible.

Enter Blockchain
TrustChain offers the blockchain technology to clean up the messy supply chain. They are in partnership with all kinds of groups, such as metals refiners, jewelry retailers, suppliers and manufacturers.

Built on IBM blockchain technology, the company's technology allows users to use their smartphone to scan a QR code on a diamond they want to buy and see the entire journey through which that particular diamond went. With this technology, users can make sure the diamond they're going pay for wasn't mined by exploited labor but in a sustainable way.

Even De Beers, the world's biggest diamond producer, is involved and offers this technology for users to check that their diamonds are not from conflict zones or used to finance violence.

"I'd love to see more transparency in the diamond industry – particularly around the origin of each stone. Blockchain technology is a massive step in the right direction," said Pook.
The technology is still in the early stages but shows a very promising future toward sustainability.

Lab Grown Diamonds
Moreover, Hoover and Strong, a precious metals and gems supplier, offers lab-grown diamonds instead of mined diamonds. Lab-grown diamonds are known to contain the same physical, chemical characteristics of real diamonds at almost 42 percent less in price.

Recycled Precious Metals
Hoover and Strong not only offers lab-grown diamonds, but also Harmony Artisanal Metals, which was branded in 2008 to include conflict-free diamonds and 100-percent recycled gold, platinum, palladium, silver and metal supplies.

3d Printed Jewelry
In addition, researchers from St. Catherine University, Minnesota, reported they successfully created zero-waste fashion accessories, such as pendants, buttons and necklaces, using 3D printing. Finished products were coated with gold paint to replicate the texture of metallic jewelry.

Overall, the researchers produced five pendant designs for necklaces, two earring designs and nine layer-designed buttons.
Assisting organizations

On top of new technologies, there are multiple organizations assisting, setting up standards for and supporting movement toward sustainable jewelry.

Ethical Metalsmiths is an organization that educates the public on sustainable jewelry and connects consumers with jewelers and local artisans that offer sustainable jewelry. In their "Better Without Mercury" Initiative, they also support mines to stop using toxic chemicals like mercury.
The Alliance for Responsible Mining has created the Fairmined initiative to certify gold from responsible artisanal and small-scale mining organizations. Fairmined gold comes with the assurance that it's responsibly mined and generates a positive impact with every purchase.

Moreover, there are standard organizations like the Responsible Jewellery Council to certify and ensure certain traders and suppliers for their sustainable practices. With a certified mark, consumers can easily distinguish brands that offer sustainable jewelry from those that don't.

Brands offering sustainable jewelry

Lastly, there are so many brands that are taking part in designing beautiful and sustainable jewelry.

Zoe Pook uses fairly traded, ethically sourced gold, diamonds and coloured gems in her engagement and wedding rings. The brand also uses recycled precious metals sourced from an environmentally friendly refinery that practices stringent controls on the use of chemicals and recycling of water.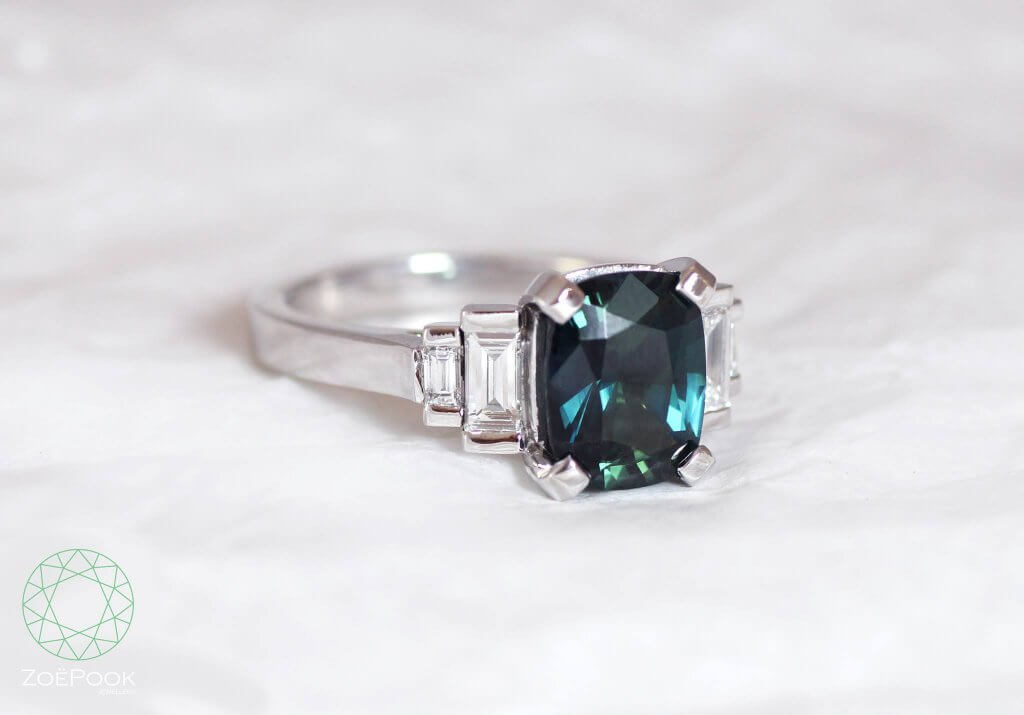 Pook was motivated to create sustainable jewelry when she realized she "was being asked to sell a luxury and sentimental product whilst essentially concealing the truth about the unethical practices that had been involved in the extraction of the gold," she explained.

She hopes to continue to educate herself and push the business in a more ethical direction.
At Winden, all materials that go in their jewelry are from sustainable suppliers. Born and raised in New York, Rebecca Mapes, the main designer, brings her inspiration from nature into her designs.

With zero waste in mind, most of Winden's products are packaged in pouches rather than boxes so that pouches can be reused rather than discarded. Their pouches are made of anti-tarnish fabric made in Italy and sewn in the United States. Also, all products are shipped in 100-percent recycled boxes manufactured in the United States.
Based in Sydney, Australia, Zefyr Jewels makes jewelry from ethically hand-cut natural crystals and recycled brass and silver. Moreover, they ship their products in recycled boxes with biodegradable vegetable inks and organic cotton.

Based in England, Emma Aitchison Jewellery incorporates different weather forms in every design. Emma Aitchison, the main designer, hopes to raise awareness for climate change through her jewelries.

In every piece, she uses recycled and fairly traded silver and gold. She uses no toxic chemicals in the production process and offers recycled packaging.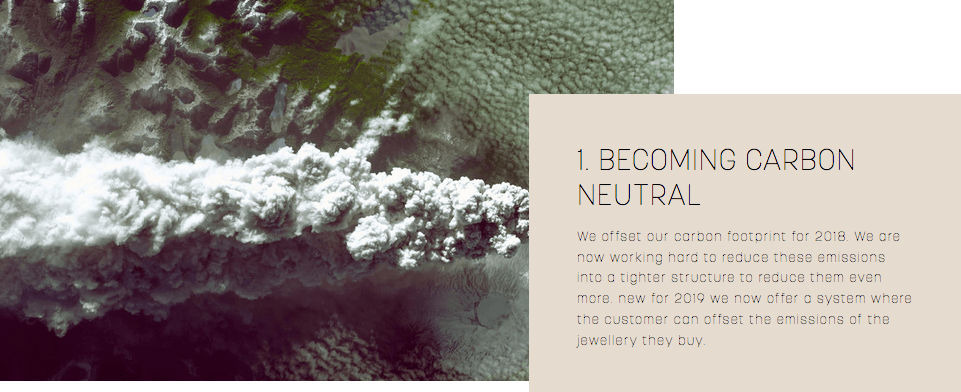 As a member of the Fair Trade Federation, Raven and Lily supports 15,000 female artisans worldwide and provide them with fair trade and livable wages, access to safe jobs, sustainable income and healthcare.

With a vision to make ethical jewelry that lasts, Bario Neal uses ethically sourced materials, such as Fairmined and recycled metals and conflict-free and fully traceable diamonds, pave stones and colored stones.
Conclusion

Ironically, in the past and still in the present, the jewelry industry has been presenting the most beautiful products that are unethical and unsustainable. However, following consumers' demand, the industry is changing. As more players come on board with the movement, harmful practices of the past will no longer be tolerated or brushed aside.