Residents of rural West Texas will have access to improved emergency treatment with the launch of a telemedicine project known as Next Gen 9-11 Telemedicine Project that is designed to provide faster communication between EMS providers and a select group of trauma centers in the area. In telemedicine, actual patient health care is delivered over a videoconferencing or telecommunications system.
The pilot program is a collaborative effort of the Texas Tech University's Health Services Center (TTUHSC), swyMed, a provider of video telemedicine solutions, and the Texas Commission on State Emergency Communications.
Funded by Texas House Bill 479, the objective of this new telemedicine project is "to improve patient outcomes by using telemedicine technology to bring the judgment of trauma surgeons into the back of ambulances to assess and direct treatment."
TTUHSC's service area covers 131,459 square miles and 108 counties, which is larger than New England, New York and D.C. combined.
According to TTUHSC, out of those 108 counties, 98 are considered rural, 22 have no physician, 32 do not have a hospital, and 75 percent of the region is more than 90 miles from a comprehensive trauma hospital.
Further, due to continued financial cuts, many rural hospitals and communities are seeing their local healthcare facilities vanish in their communities.
"We have already seen many rural hospitals close and it is anticipated that many more will close in the next few years," said project director Sharon Rose.
Current emergency health care in the region is not ideal. It could take anywhere from 30 to over 90 minutes to transport patients in an ambulance to the nearest hospital only to find that the facility is not equipped to handle their needs, or patients may even be airlifted to a trauma center when their injuries could have been handled in a closer hospital.
This new telemedicine project will focus on trauma, stroke and cardiac EMS calls, giving the physician the tools to see and observe accident site and injuries so that treatment can begin immediately and the patient is brought to the most appropriate destination for care via the most appropriate means.
Collaboration between physicians and emergency departments could allow less critical patients to be cared for locally, if services are available, and not have to travel long distances, take time off work and bear the cost of traveling to get medical care.
"Another opportunity of this project is to keep patients in their community at the local hospital and close to their family support system if at all possible," said Rose.
This telemedicine project is different from TTUHSC's other telemedicine projects in that the equipment is placed in the back of ambulances, which allows EMS providers to establish an audio-video conference with the physician in the emergency department of the local or regional trauma hospital by using an LTE/4G network mobile link, delivering high quality video at even the lowest bandwidths and in the most remote areas.
Ten test ambulances are being installed with swyMed's telemedicine equipment, including the DOT Telemedicine Backpack, so physicians can control the camera to zoom in, zoom out and around to look at the patient's injuries and current vital signs while the EMS provider continues caring for the patient. Since the physicians can observe the injury, they can begin a plan of treatment before the patient reaches the emergency department.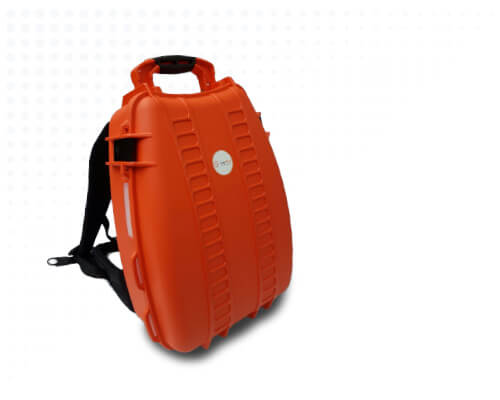 Future plans for expansion depend on the data collected with the pilot project.
"If it is successful and improves quality of care, more timely medical treatment and cost savings, perhaps the State of Texas will continue to allocate funds to the project," Rose said.
Over the next four years as the program contract is renewed, additional ambulances and counties will be added. The key to this initiative will be the ability to maintain quality connectivity in the most rural counties of West Texas, which the program has accomplished so far.
"Telemedicine technology for emergency management situations, and particularly in rural geographies, requires specialized tools with the flexibility to find and make the most of the available carrier signals," swyMed CEO Stefano Migliorisi said in a statement. "swyMed is thrilled to collaborate with Texas Tech University Health Sciences Center to demonstrate how real-time virtual care in remote areas can bring the right resources to bear to improve patient outcomes and the efficiency of the health care delivery system."