What is your ecological footprint? First-year students at University Park, Penn State University's largest campus, will be measuring their ecological footprint with the help of the PawPrint, a student-centered metric created by Andrew Lau, associate professor of engineering design at Penn State.  
Lau brought the PawPrint project to Penn State's Sustainability Institute's Reinvention Fund, the university's internal grant program, in 2014 and won a grant to fund the project.
The PawPrint project estimates that an individual's ecological footprint could be reduced by up to two-thirds "by simply re-evaluating daily choices and making sustainable changes to day-to-day activities."
What is an ecological footprint?
According to Global Footprint Network, an ecological footprint is the measurement of the amount of nature we use (demand) and the amount we have (supply).
On the demand side, it measures the ecological assets (including cropland, grazing land, fishing grounds, built-up land, and forest area) required to produce the natural resources consumed (including plant-based food and fiber products, livestock and fish products, timber and other forest products, and space for urban infrastructure) and absorb waste, especially carbon emissions.
On the supply side, it measures biocapacity, which is the productivity of ecological assets.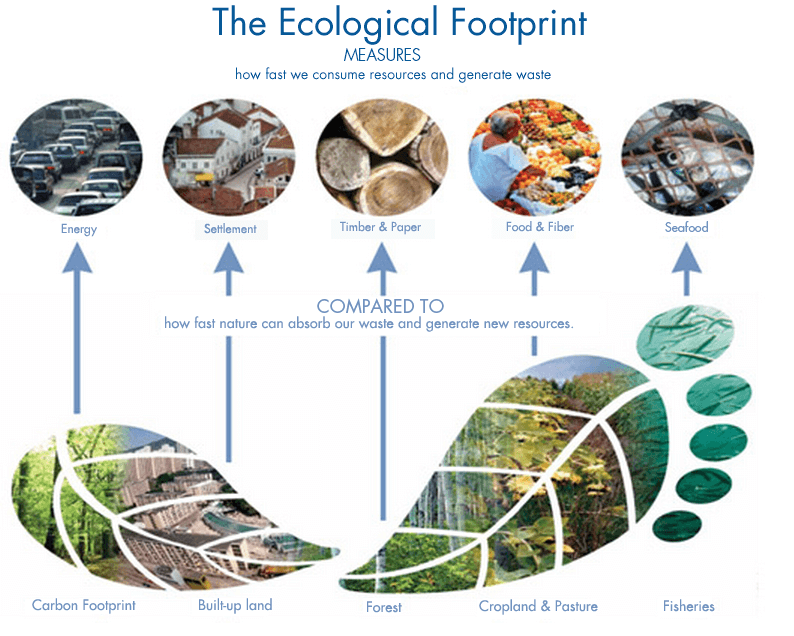 Both the ecological footprint and biocapacity are measured in global hectares (gha). The earth's biocapacity is now equivalent to 1.8 global hectares (gha) per person, if we divide it equally among the current population of 7.5 billion people, but the biocapacity of the U.S. stands at 2.7 gha per person, which is 50 percent more than what the earth can provide.
We would need 5 earths to support the world's demand if every country were to adapt American lifestyle and leave as heavy an ecological footprint. That's a shocking concept, which makes it all the more urgent for the U.S. to do better and leave a lighter footprint on the earth.
Recognizing the threat to the environment, many universities and colleges have programs in place to reduce their ecological footprint. Professor Lau is doing his part by bringing the PawPrint project to Penn State's University Park campus, which houses about 46,000 students.
The PawPrint, a powerful learning tool for students
Lau designed the PawPrint with the intent to help students at Penn State's University Park campus make better choices in their everyday lives and reduce their ecological footprint.
To do that, he believes that students need to know more about opportunities available to them and the impact of the choices they make on the environment. Unfortunately, current online tools to measure ecological footprint are lacking in the sense that students often don't find the questions applicable to their lives. The other downside is that ecological footprint focuses on the negative, as it measures the impact on the earth.
Lau seeks to remedy these deficiencies with the PawPrint. The project will appeal to students in two ways.
Firstly, the project is made relevant to students in that it encourages them to reduce their on-campus ecological footprint — their Penn State PawPrint — using food, energy consumption, waste, and transportation behavior to measure their PawPrint. To help students relate to the measurement, the PawPrint does not use global hectares; instead, it helps students realize the impact of their choices by using a scale ranging from the most sustainable to the least sustainable behavior.
Secondly, the PawPrint focuses on the positive side of the equation. Instead of looking at it from a negative angle and focusing on the impact on the environment, the PawPrint concentrates solely on teaching students how to become better environmental stewards. This strategy will help the project reach students who, Lau believes, "generally want to be good stewards of Earth."
The project is slated to complete its first phase this summer with students using a working toolkit to assess their PawPrint.
The next phase of the project will involve integrating the tool, by way of a web and possibly phone application, with examples and resources, which will guide and support students in their efforts to be more sustainable.
A fully-developed tool will provide students with positive sustainability examples and reinforce sustainable living as a better lifestyle. When students try different approaches, they will realize the impact of their choices and understand how they can make better choices.
"Sustainability requires us to find ways to live that are fulfilling while having much less ecological impact," Lau said in a statement.
"The PawPrint is a valuable tool to help inform students in making progress on this path."
The PawPrint's potential as an educational tool is immense.
TUN spoke with its creator to find out who was involved in the project and what inspired him.
TUN was informed that about 10 students have worked directly on the project and several classes of first-year students, around 75 students altogether, have used it and provided him with feedback.
Lau's goal is to make the tool available to all first-year students at University Park.
Lau credits the students as his inspiration.
"Students inspired the project," said Lau.
"I used readily available ecological footprint (EF) calculators for eight years in my mostly first-year classes. Students were curious about EF, but expressed frustration with the irrelevance of many of the questions. My personal issue with EF is that it is about reducing one's EF, i.e., less is good. Recognizing that EF is a metric of environmental sustainability, and that less EF means more sustainable, the PawPrint indicates where a student stands relative to the most sustainable behavior (least EF), and least sustainable (greatest EF). The goal is to become a more sustainable Penn Stater."
The PawPrint will help students measure their ecological footprint more easily, so they can make better choices in their everyday lives and live sustainably.
"The PawPrint takes the concept of sustainability and shows students how they are doing and what's possible," said Lau.
"The PawPrint helps students answer the question: 'How sustainable is my current way of life?'"