College dorms are generally small and bleak, but there are many easy ways to make it a home for the nine months you live there. Take the time to make your dorm room a space you can relax in, so you can enjoy living on campus.
Here are eight creative ways to decorate your room makes decorating easy, efficient, and makes your room unique.
1. Theme
When purchasing dorm decor, keep a few colors in mind so your room will be color-coordinated. By setting a theme, you can set the tone for your dorm room. Once you set a theme for your dorm, purchasing bedding, accessories, rugs, and decorations becomes easier since a color palette has been set. Having a theme will tie your room together and allow for a cozy and welcoming environment. If you are unsure about a theme, you can check out Pinterest or other social media platforms for inspiration.
2. Bedding
Bedding is the easiest way to decorate a room. You can buy them singly or simply get a set that includes sheets, pillow cases, a comforter, and perhaps even a throw. Once you have made a choice in bedding, pillows are an easy way to decorate your bed. Pillows come in all shapes and sizes: body pillows, decorative pillows, mini-pillows, the ones you actually sleep on, and more. Fuzzy pillows often tend to bring comfort with a decorative aspect; that way, you don't have to sacrifice comfort for decorative purposes.
3. Lighting
College dorm rooms can have little to no light, so you will likely need to supply your own lamps. You can choose either desk or floor lamps, which available in different materials and can be plain or fancy. If you choose a floor lamp, you should look at the ones with multi-heads so you can have focused light for reading. You can also choose a neutral color or go with bright colors, depending on your theme. You can drape a scarf over the lamp if you want to soften the light when you are not studying.
4. String Lights
Once you've chosen the lighting for your dorm room, you should consider hanging string lights to add ambience to the room. String lights can take the starkness out of a room and make it feel warm and cozy. It's easy to hang the string lights — just use push pins or thumbtacks throughout your room and even over your bed. The string lights will make your room seem more festive also.
5. Photos
The easiest way to make a room feel like home is to add photos to your dorm. You can buy small picture frames, or even pin pictures to the wall. If you prefer a really unique DIY for hanging pictures, you can take some string and hang the photos on clothespins around your room. The photos add personality while reminding you of home. My personal favorite is hanging Polaroid pictures over my desk. Polaroids are the best type of images because each photo is unique and can be printed in an instant.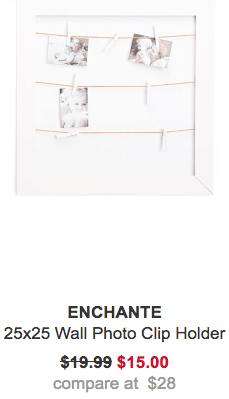 Here's a unique frame to hold your photos from TJ Maxx!
6. Flooring  
If you are stuck with hardwood floors, tiles, or carpet, the flooring in your college dorm may be old and uncomfortable to walk on. Investing in a rug that matches the decor in your room is a simple way to brighten the room or hide stains. On cold days, you will find it a treat to step onto a warm, comfortable rug. Also, consider a small fluffy rug at your desk. It will keep your feet warm and toasty when you are stuck at your desk once the weather turn cold.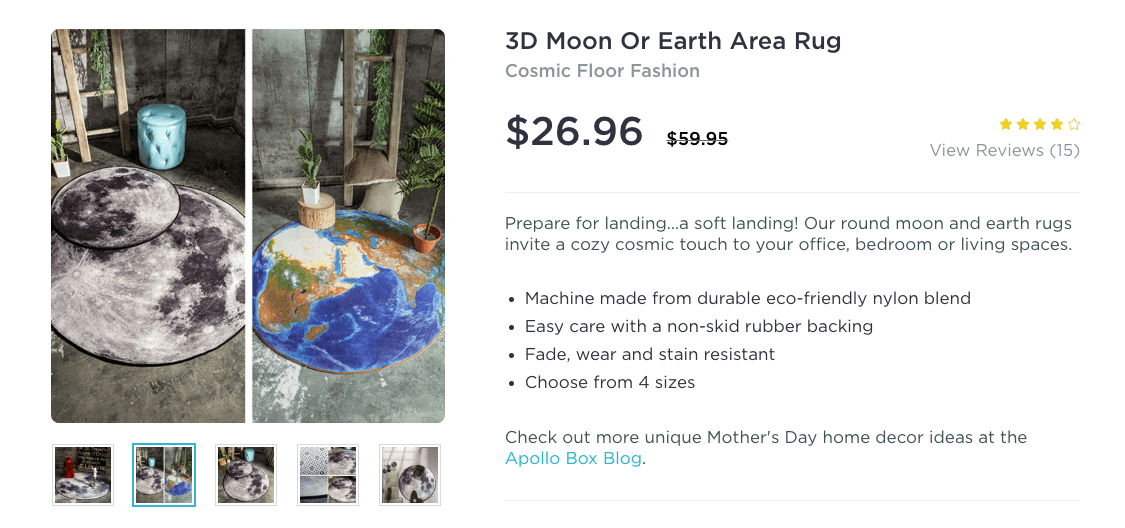 You'll feel out of this world with these rugs from The Apollo Box.
7. Canvas
By adding a canvas to the wall, you can have an inspirational quote or a beautiful image become the focal point of attention. If you are artistic, you can even paint a canvas to your liking.  Canvases come in a variety of sizes, shapes, and colors, and are easily customizable for any dorm room.
8. Tapestry & Posters
Dorm room walls are generally plain, so they are yours to personalize. Tapestries and posters are a unique and easy way to customize a room. The walls are one of the first things people look at when they enter your room, so by customizing your walls, your room instantly gets a homey feeling. Tapestries and posters easily add a burst of color or imagery on the wall. They are also easy to hang, so you do not risk the chance of potentially damaging your dorm room walls.
Buying college decor doesn't have to be expensive. Stores like TJMaxx, Marshalls, HomeGoods, and H&M offer great prices for college dorm decor on a budget. I personally go to TJMaxx and Marshalls before I check out other stores, because their prices are easy on my student budget. But, even if you are going to discount stores, you should set a budget before shopping for your dorm room, so you don't overspend on decorating your living space while on campus.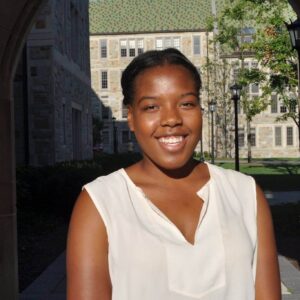 Vanessa Sewell is studying Economics and Communications at Boston College. She is from Bronx, NY. Vanessa has worked on topics related to lifestyle, fashion, culture, and education during her time at Boston College. During her free time, she can be found playing piano and guitar or jamming to Spotify.