When the average traveler visits Florida, it's usually to soak up the sun in one of the top three destinations: Miami, Orlando or Key West. But the real gem of this peninsula state lies in a Spanish-infused city called St. Augustine.
St. Augustine is an exquisite place to visit for multiple reasons: its position on the Atlantic coast offers gorgeous beaches and plenty of sunshine, and its history as the oldest inhabited city in the United States brings a Spanish-style, European feel that no other American city can replicate.
The next time you travel to Florida, consider putting this unique city on the top of your list. As a college student, St. Augustine allows you the opportunity to visit a place that feels wildly different than any other in the United States — and it's not even that expensive.
Here are some budget and travel trips to help you along the way.
Affordable housing
When booking a trip to St. Augustine, it's important to look into the most affordable housing options. Depending on what you're willing to spend, you can choose your lodging in a scenic space overlooking the Atlantic Ocean, or the city's historic district, or you can chose to stay in one of the many vibrant neighborhoods that St. Augustine has to offer. St. Augustine's historic district is located in the heart of the city and has some of the oldest buildings dating back to the 1700s.
Here you'll find many hotels, bed and breakfasts, and tourist attractions — but it tends to get a little pricey. However, the city's only hostel —
The Pirate Haus Hostel
— is located in this area of St. Augustine and typically offers pricing at around $20- $30 a night. To find the most economic options, I would also suggest comparing hotels and Airbnb's in multiple locations throughout the city.
History and attractions
St. Augustine was founded in 1565 by Spanish explorer Don Pedro Menéndez de Avilés, and the history and layout of the city cannot be stressed enough. There are plenty of gorgeous buildings and streets to peruse (for free) in order to get a feel for this unique and historic location.
Here are a few must-see places:
St. George Street is located in the historic district, which, as mentioned before, is in the heart of the city and is comprised of some of the oldest buildings and architecture. Throughout the street you can find historic attractions — such as the Old City Gates and the Oldest Wooden Schoolhouse — dispersed amongst unique shops, boutiques and cafes. This section of the city also gives a glimpse into the hustle and bustle of the city's culture — St. George Street is populated at nearly every hour of the day, giving a glimpse into the people and culture of the city.
The cobblestone roads and coquina walls (the original rock used to construct protective forts in St. Augustine during the 16th century) of
Aviles Street
will make you feel like you've stepped into a European fairytale. Aviles Street is flooded with outdoor restaurants, shops and gorgeous scenery. It is also the original artist district of St. Augustine, and is home to a number of unique galleries and art studios.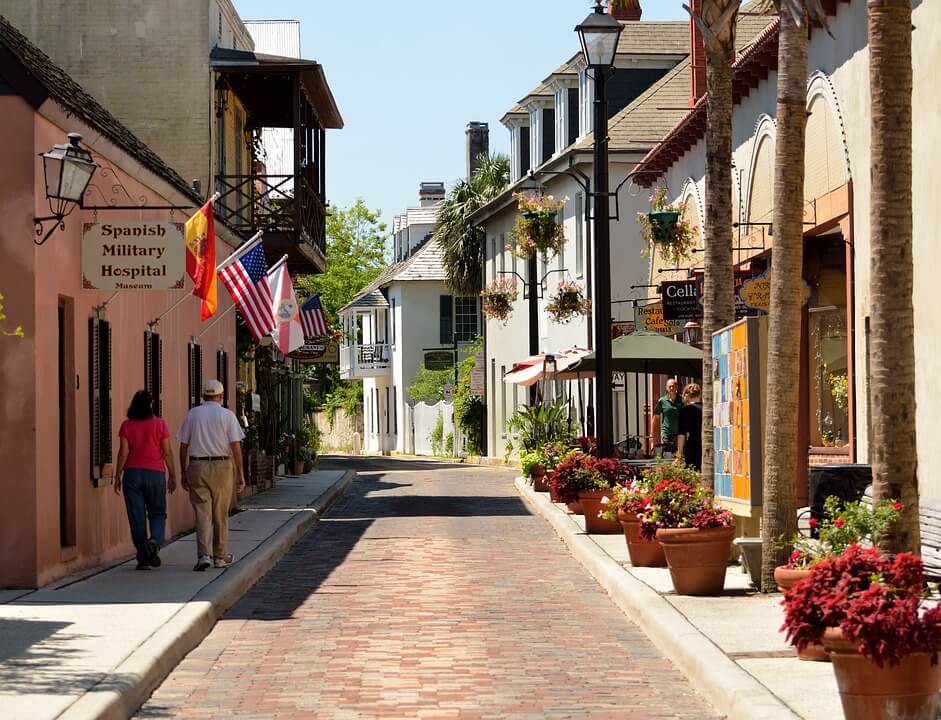 The St. Augustine Bayfront is the perfect place to walk along the water at anytime of day. Walking this path allows you to soak in the city's coastal feel without stepping fully onto St. Augustine's beaches, and you can always catch a picturesque view of sail boats and historic lighthouses.
Flagler College is one of the most stunning college campuses in the United States. This small liberal arts school boasts some of the most incredible Spanish-style architecture in the city, and its grandiose buildings are something every person visiting St. Augustine should see. Named after Henry Flagler — an important industrial figure for developing Florida's east coast — the college grounds offer the opportunity to see what it's like to be a student in this resort-like town. Simply walking along the college's campus is a great way to spend an awe-inspiring afternoon, at no cost at all. You can also take a tour of the ground floor of the building with its Tiffany windows, ornate murals and Spanish Renaissance architecture. Ticket price is $10 for adults (13-59 years).
If you like beaches, St. Augustine boasts 42 miles of pristine coastline, ranging from lively surfer-style beaches to calming and relaxed sand dunes. Each of the beaches in St. Augustine is free to relax on for the day, but if you are traveling with a car, there may be parking fees. My favorite St. Augustine beaches include Vilano Beach, Crescent Beach and St. Augustine Beach!
Fort Matanzas
is a historical landmark that was built in 1742 to protect the city from British invasion. The fort is located 15 miles south of St. Augustine, but the city offers free ferry rides and free admission to the site!
In addition to being a historic site, the fort grounds also offer beautiful nature trails and a half-mile boardwalk trail that leads through the maritime forests. Visiting Fort Matanzas is a wonderful way to see more of St. Augustine than just the inner city limits.
Museums & culture
Beyond walking the city streets, visiting the many historic landmarks and museums allows you to really soak in the city's history and learn more about the settlement of America's first city.
Here are the best places to visit to learn about St. Augustine's past:
Castillo de San Marcos is the oldest masonry fort in the continental United States. It was built in 1672 by the Spanish settlers as a means to keep the city safe from pirates and British explorers. Its coquina walls served as a protective fort for over 205 years, and its structure remains well preserved today.
Visiting the
Castillo de San Marcos National Park
is a wonderful way to engage with the city's history. Admission to the grounds is $15, and the visit is well worth it!
Located on St. George Street, the Colonial Quarter is a living museum that offers a glimpse into what life was like for 16th, 17th and 18th century residents of the city. On the Colonial Quarter tour, you can learn about blacksmithing, watch a live musket demonstration, and climb to the top of a Spanish watchtower. The tour provides a unique and immersive experience into the city's past, and tickets are $12.99 for adults.
The gorgeous Lightner Museum is located in the former Alcazar Hotel, which was constructed by Henry Flagler in 1888. The museum is now home to one of the best collections of fine and decorative 19th century art in the United States. The architecture of the building, paired with a unique collection of art, makes this museum a must-see for any art or history buff. Tickets for college students are only $12.
Anastasia State Park
includes 1,600 miles of beaches, marshes and preserves. This state park offers hiking, sunbathing, surfing, swimming, fishing, sailboating, paddleboarding and sailboarding — in other words, any activity you would long to do in the beautiful Florida sun. The park is the quintessential place to go for a fun, relaxing day in St. Augustine's nature. Admission is $8 per vehicle with up to 8 people, $4 per vehicle with one occupant, and $2 for pedestrians and bicyclists.
Food
One of the best parts of traveling to any new city is experiencing the food, and St. Augustine has plenty of delicious eats.
Here are a few of my favorite places to grab a bite in the city:
Mi Casa Cafe is a quaint restaurant and outdoor beer garden located in the downtown historic district. The cafe features delicious Spanish and German-style sandwiches, salads and tacos. The average menu price ranges between $8 and $10, and the outdoor beer garden offers both European and American-style beers. Mi Casa Cafe has an awesome laid-back atmosphere, and it often offers live music for a fun night on the town!
The Spanish Bakery and Cafe, located on St. George Street, offers a warm, welcoming feel with an outdoor seating area and a delicious assortment of homemade Spanish and Floridian recipes. The bakery and cafe is a lovely place to get an authentic St. Augustine meal, and menu prices stay affordable at around $6-$10.
For delicious fish tacos, crab cakes or fish n chips, the Beachcomber is the perfect spot for you. Located on the A Street vehicle entrance of St. Augustine Beach, the Beachcomber is a seaside delight packed full of delicious fresh food and beautiful views of the ocean! It also has some pretty great happy hour deals from 3 p.m. to 6 p.m. daily.
St. Augustine is home to a number of delicious food trucks serving everything from fresh tropical smoothies to fusion-style Hawaiian food and seafood twists. My favorite place to grab a quick bite is the Crave Food Truck, located at the Riberia Street Marina. This food truck offers affordable and deliciously fresh food options and smoothies, ranging from about $6 to $8. You can build your own bowls, wraps and salads here!
Nightlife
St. Augustine is a college town, so there's plenty of fun things to do at night. These were some of my favorite youthful spots (and deals) for a fun night out in the city!
Stogies Cigar Bar is a great local spot to hear live music on any day of the night. The atmosphere is warm and cozy, with string lights, comfy couches and chairs littered around the interior for a relaxed and homey feel. The musical acts are always lively and talented, and it's a great place to get a sense of the local music scene! The club allows smoking both inside and out, and you can get a free cigar with a beer.
Located in the downtown historic district, The Bar With No Name is a great place to catch live music, great food and cheap drink deals. Additionally, the bar is located across from the Castillo de San Marcos and has gorgeous views of the bay.
On Tuesday nights at The Corner Bar — a local St. Augustine Sports bar and grill — you can get tasty $1 tacos and $3 margaritas all night long.
The Barley Republic, an Irish pub and cocktail bar located in the historic district, serves up delicious food and drink deals all week long. You can find $4 beer, wine, sangria and margaritas PLUS $1 fresh oysters on weekdays from 4 p.m. to 7 p.m. The bar also offers live music on Saturdays, and cheap discounts on Bloody Mary, mimosa and sangria for Sunday Brunch.
Student discounts
As a college town, St. Augustine offers a number of student discounts, ranging from cheap food and drinks to discounted museum passes.
Here are a few of the best ones:
Conclusion
St. Augustine is one of the most budget-friendly and beautiful cities in the United States. With free, gorgeous beaches and incredible Spanish-style architecture, you can walk around the city all day without even paying a dime. But if you do decide to splurge, St. Augustine has some delicious food options and a vibrant nightlife scene. It's the perfect destination to travel as a college student; so the next time you hear someone talk about a spring break trip to Miami, suggest St. Augustine instead. You won't regret it.
Natalie Colarossi is a recent graduate from Ohio University with a B.A. in Journalism from the E.W. Scripps School. She is from Pittsburgh, Pennsylvania. She has covered a number of topics including art, culture, politics, music, and travel. Her greatest passion and priority is to travel, and she hopes to experience as many places and cultures as possible.