As an international student, you may face a few obstacles when applying for internships. The U.S. government has special rules for international students who want to work here, and schools have their own rules as well. The application process is tedious, but the benefits you get from an internship definitely overweigh any obstacles you have to go through. Internships provide you with an opportunity to gain experience in your area of interest as well as help you develop networking contacts.
Here are a few tips — from one international student to another — to keep in mind when applying for internships and for once you start working.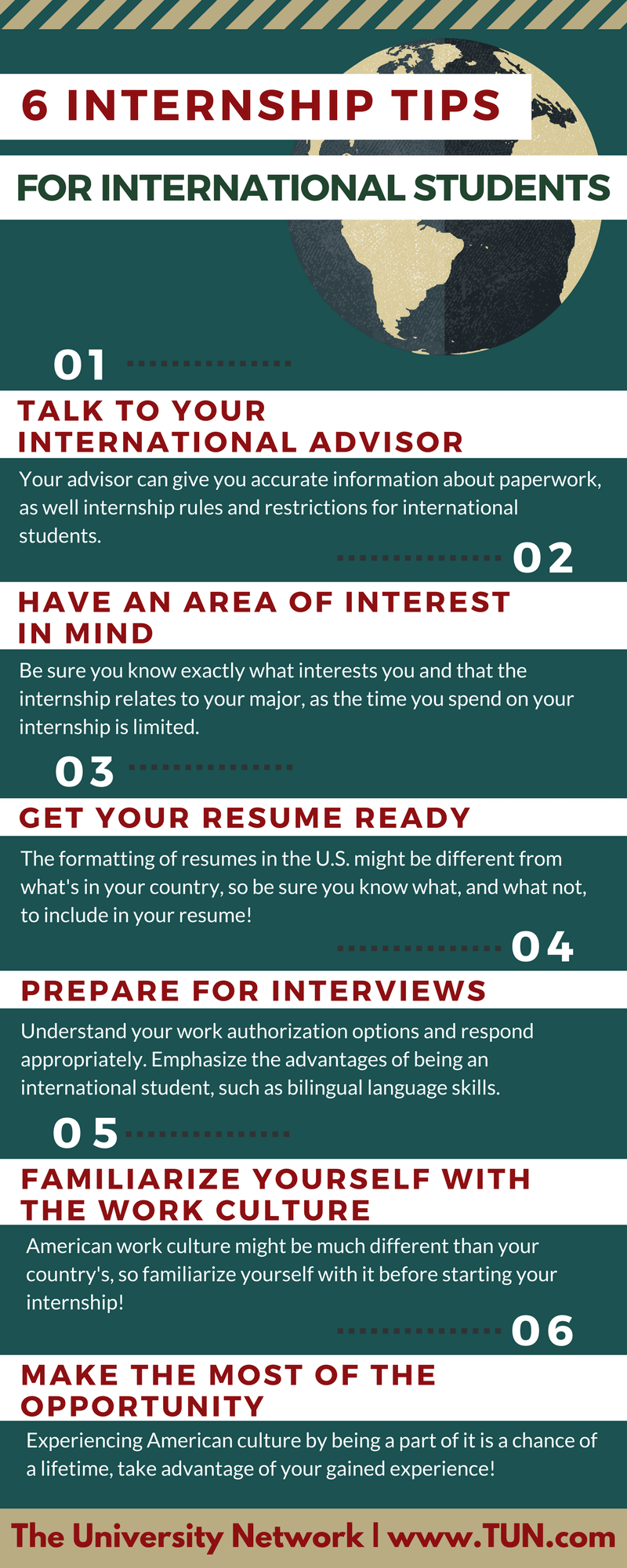 1. Talk to your international advisor
One of the first steps you should take when applying for internships is contacting your college's international student advisor. Talk to a professional about your options. There are particular rules and restrictions for international students regarding off-campus internships, and talking to your international student advisor is the best way to get accurate information about these matters. Your international student coordinator can also help you figure out what kind of paperwork you will need to complete.
Curricular Practical Training

– If you are currently enrolled in a college in the U.S., you may be eligible for 

Curricular Practical Training

(CPT). This allows you to have a paid internship after 9 months of entering the U.S, but requires that your internship be

related to your program of study

and that you receive some sort of academic credit for your internship.
According to the U.S. Citizenship and Immigration Services (USCIS), students with an F-1 visa who wish to participate in CPT must present the following three documents to establish identity and employment authorization:
Unexpired foreign passport;
Form I-20 with the Designated School Official's (DSO) endorsement for employment; and
Form I-94 or Form I-94A indicating F-1 nonimmigrant status.
Once the DSO completes Form I-20, you may begin your CPT work.
It is important to keep in mind during the application process that rules may differ from college to college, which is why it's best to get in touch with professionals at your school.
Optional Practical Training

– If you are looking for an internship

directly related to your major

while you are in school, or after you graduate from college, you can apply for

Optional Practical Training

(OPT). This procedure is a little tougher than the CPT application, as international students are required to apply to USCIS for approval before they are allowed to work.  Once you receive an Employment Authorization Document from USCIS, you can start your OPT work.  
Students who are still in school are allowed to work:
For up to 20 hours per week while school is in session; and
Full-time during the student's annual vacation and at other times when school is not in session.
Students who have completed their course of study must complete all practical training within a 14-month period.
2. Have an area of interest in mind
Before applying and accepting an internship, be sure that you know exactly what interests you. As an international student, the time you spend on your internship is limited. In order to get your CPT, you will need to get academic credit for your internship, which is why it would be a good idea to find a job that's related to your area of interest. If you are applying for a job after graduation, you will be using valuable OPT time,  so you will need to find a job that is directly linked to your major. In both cases, before looking for an internship, be sure that your major is what you would like to pursue a career in.
3. Get your resume ready
As any other student would do, once all your paperwork is done, it's time to prepare and perfect your resume. Get in touch with career services on your college campus and ask them any questions you may have about structuring resumes and preparing for interviews. The formatting of resumes in the U.S. might be different from what's in your country, so be sure that you know what, and what not, to include in your resume!
4. Prepare for interviews
As an international student, there are a few things to keep in mind during your interview. Firstly, it is essential that you understand your work authorization options and respond appropriately. Also, be sure to emphasize the advantages of being an international student. For bilingual international students, your language skills can be a benefit to many companies. Additionally, studying abroad shows your ability to interact with diverse individuals and highlights your adaptability to new and different environments. It's important to emphasize these strengths during the interview. Finally, make an appointment with career services at your college and practice mock interviews until you get it right.
5. Familiarize yourself with the work culture
For those of you who have not worked before, it can be quite an adjustment to spend so much of your time in an office. It is also extremely important to understand the American work culture. Although the ability to work in a team is cherished, American culture is usually quite individualistic. Interns are expected to be independent and take initiative. American workplace culture is often pretty informal. Depending on where you are from, this kind of work environment might be a shock to you, so it is better that you familiarize yourself with it before starting your internship, especially if you have never been around a work setting before.
6. Make the most of the opportunity
Once you have completed all the required paperwork and obtained an internship, enjoy the amazing experience! Experiencing American culture by being a part of it is a chance of a lifetime. Continuing your education in the U.S. is one thing, but working with Americans is a completely different experience.
In the end, when you've landed your dream internship, all the hassles of the application process will seem worth it. Having to go through this extra step will make you value your job even more, and help you appreciate the amazing opportunity that is presented to you. There is no replacement for the knowledge and experience you will gain from your internship.
RELATED: Preparing Yourself for the Workforce