Eleven boys and girls die every single minute from preventable causes.
Hundreds of women die every single day while giving birth.
Tens of millions of children are denied the right to education.
Hundreds of millions of people still don't have access to clean water.
Some eight hundred million men, women, and children survive on less than $1.25 a day.
Yes, this is the world we live in, presently. However, the future is up to us. All this can change, but only if we change first.
On September 25, 2015, 193 global leaders agreed on (and officially adopted) a new, universal set of goals that will frame our political agendas and policies for the next 15 years. After much discussion, debates, door-to-door surveys, drafts, decisions, and declarations, the 17 Sustainable Development Goals (SDGs), or Agenda 2030, was birthed.
Effective January 1, 2015 through December 31, 2030, this agenda aims to:
(1) end extreme poverty, (2) fight inequality and injustice, and (3) fix climate change.
This global-scale attempt to "better the world," however, is nothing new. The SDGs, in fact, is a continuation of, or improvement upon, the Millennium Development Goals (MDGs), adopted by the leaders at the beginning of the new millennium.
To better understand the goals that are to guide us for the next 15 years (SDGs), then, it is essential to examine the successes and the shortcomings of the developmental framework that has guided us for the past 15 years.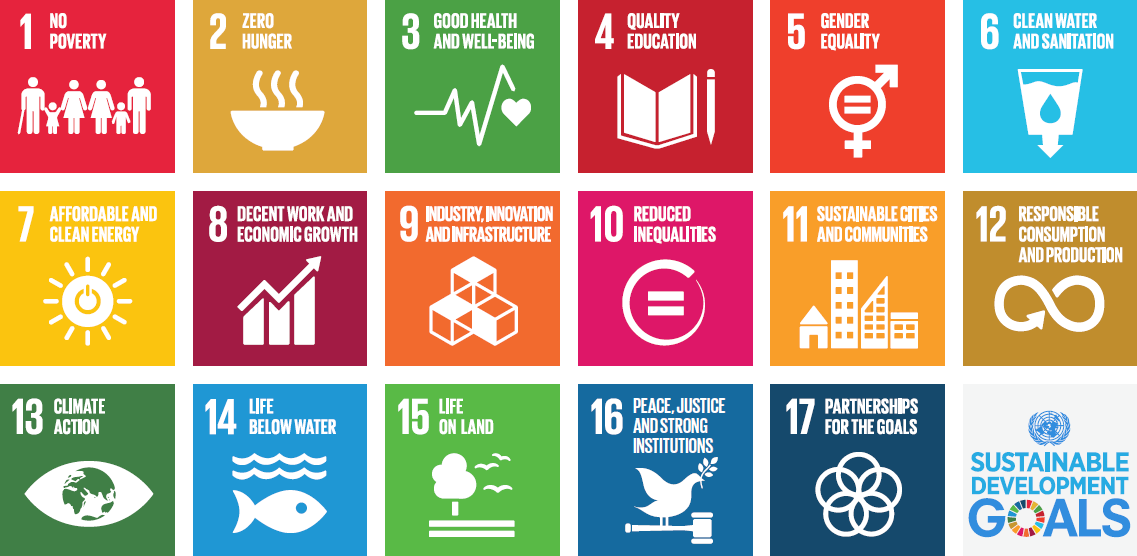 What worked?
The MDGs have lifted millions out of poverty- the number of people living in extreme poverty declined from 1.9 billion in 1990 to 836 million in 2015.
Investments in health have produced positive results— new HIV infections fell by 40%; over 6.2 million malaria deaths were averted; tuberculosis prevention, diagnosis and treatment interventions saved an estimated 37 million lives.

Enrollment in primary education in developing regions reached 91% in 2015, up from 83% cent in 2000. And among youth aged 15 to 24, the literacy rate has improved globally from 83% to 91% between 1990 and 2015.

Today, 95% of the global population is using an improved drinking water source, compared to 76% in 1990.
What needs more work?
Although the number of children out of school declined by half (from 102 million in 2000 to 57 million in 2012), there are still far too many children out of school.

Although the mortality rate for children under five dropped by 53% and maternal mortality by 45%, the decrease was not enough to meet the MDG target of reducing the rate by two-thirds and three-quarters, respectively.

Gender disparities still exist in the workforce, education, and in politics.

Despite progress, about 800 million people still live in extreme poverty and suffer from hunger. (Children from the poorest 20% of households are four times as likely to be out of school).

Despite improvements, approximately 50% of people living in rural areas still lack improved sanitation facilities.
What we can learn from the MDG experience?
Even the poorest countries can make progress with targeted interventions, sound strategies, adequate resources and political will.

Building on the successes and working on the weaknesses of the MDGs will help to address the inequities that are still prevalent in the world today.
What's new in the SDGs? The specific agendas?
There are 17 goals with 169 targets:
1. No poverty – "End poverty in all its forms everywhere"
Eradicate extreme poverty, for those living on less than $1.25 a day.

Implement social protection systems for the poor and the vulnerable, giving them equal rights to economic resources as well as access to basic services.

Implement programs and policies to end poverty in all its dimensions, especially in the least developed countries.
2. No hunger – "End hunger, achieve food security and improved nutrition and promote sustainable agriculture"

Achieve universal health coverage.

Ensure universal access to sexual and reproductive health-care services.

Reduce the number of global deaths and injuries; end preventable deaths of newborns and children under 5; reduce the global maternal mortality ratio to less than 70 per 100,000 live births.

End the epidemics of AIDS, tuberculosis, malaria and other communicable diseases by support the research and development of vaccines and medicines.
3. Good health – "Ensure healthy lives and promote well-being for all at all ages"
Ensure sustainable food production systems and agricultural practices that help maintain ecosystems and strengthen capacity for adaptation to climate change.

Double the agricultural productivity and incomes of small-scale food producers.

End all forms of malnutrition, especially for children under the age of 5, adolescent girls, pregnant and lactating women and older persons.

Ensure access to safe, nutritious and sufficient food for all people, all year round.
4. Quality education — "Ensure inclusive and equitable quality education and promote lifelong learning opportunities for all"
Ensure that all girls and boys complete free, equitable and quality primary and secondary education.

Ensure equal access for all women and men to affordable and quality technical, vocational and tertiary education, including university.

Substantially increase the number of youth and adults who have relevant skills, including technical and vocational skills, for employment, decent jobs and entrepreneurship.

Eliminate gender disparities in education and ensure equal access to all levels of education and vocational training for the vulnerable, including persons with disabilities, indigenous peoples and children in vulnerable situations.

Achieve literacy and numeracy for all youth and a substantial proportion of adults.

Expand globally the number of scholarships available to developing countries for enrollment in higher education.

Substantially increase the supply of qualified teachers.
5. Gender Equality — "Achieve gender equality and empower all women and girls"
Gender equality and women's empowerment have advanced in recent decades. Girls' access to education has improved, the rate of child marriage declined and progress was made in the area of sexual and reproductive health and reproductive rights, including fewer maternal deaths. Nevertheless, gender equality remains a persistent challenge for countries worldwide and the lack of such equality is a major obstacle to sustainable development.

Violence against women and girls violates their human rights and hinders development. Most such violence is perpetrated by intimate partners… Additionally, human trafficking disproportionately affects women and girls, since 70 per cent of all victims detected worldwide are female.
6. Clean Water and Sanitation — "Ensure availability and sustainable management of water and sanitation for all"
Water and sanitation are at the very core of sustainable development, critical to the survival of people and the planet. Goal 6 not only addresses the issues relating to drinking water, sanitation and hygiene, but also the quality and sustainability of water resources worldwide.

More progress has been made in access to drinking water. In 2015, 6.6 billion people, or 91 per cent of the global population, used an improved drinking water source, versus 82 per cent in 2000. Despite that improvement, an estimated 663 million people were using unimproved water sources or surface water that year. While coverage was around 90 per cent or more in all regions except sub-Saharan Africa and Oceania, widespread inequalities persist within and among countries. Moreover, not all improved sources are safe. For instance, in 2012 it was estimated that at least 1.8 billion people were exposed to drinking water sources contaminated with faecal matter.
7. Affordable and Clean Energy — "Ensure access to affordable, reliable, sustainable and modern energy for all"
Energy is crucial for achieving almost all of the Sustainable Development Goals, from its role in the eradication of poverty through advancements in health, education, water supply and industrialization, to combating climate change.

The proportion of the global population with access to electricity has increased steadily, from 79 per cent in 2000 to 85 per cent in 2012. Still, 1.1 billion people are without this valuable service.

The proportion of the world's population with access to clean fuels and technologies for cooking increased from 51 per cent in 2000 to 58 per cent in 2014, although there has been limited progress since 2010. The absolute number of people relying on polluting fuels and technologies for cooking, such as solid fuels and kerosene, however, has actually increased, reaching an estimated three billion people. Limited progress since 2010 falls substantially short of global population growth and is almost exclusively confined to urban areas.
8. Decent Work and Economic Growth — "Promote sustained, inclusive and sustainable economic growth, full and productive employment and decent work for all"
Sustained and inclusive economic growth is necessary for achieving sustainable development. The global annual growth rate of real GDP per capita increased by 1.3 per cent in 2014, a significant slowdown compared to 2010 (2.8 per cent growth) and 2000 (3.0 per cent growth). Developing regions grew far faster than developed regions, with average annual growth rates in 2014 of 3.1 per cent and 1.4 per cent, respectively.

The global unemployment rate stood at 6.1 per cent in 2015, down from a peak of 6.6 per cent in 2009, mostly owing to a decline in unemployment in the developed regions. Unemployment affects population groups differently. Globally, women and youth (aged 15 to 24) are more likely to face unemployment than men and adults aged 25 and over. In all regions, except Eastern Asia and the developed regions, the unemployment rate among women is higher than that of men. In almost all regions, the rate of youth unemployment is more than twice that of adults.
9. Industry, Innovation, and Infrastructure — "Build resilient infrastructure, promote inclusive and sustainable industrialization and foster innovation"
Goal 9 encompasses three important aspects of sustainable development: infrastructure, industrialization and innovation. Infrastructure provides the basic physical systems and structures essential to the operation of a society or enterprise. Industrialization drives economic growth, creates job opportunities and thereby reduces income poverty. Innovation advances the technological capabilities of industrial sectors and prompts the development of new skills.
10. Reduced Inequalities — "Reduce inequality within and among countries"
Goal 10 calls for reducing inequalities in income as well as those based on age, sex, disability, race, ethnicity, origin, religion or economic or other status within a country. The Goal also addresses inequalities among countries, including those related to representation, migration and development assistance.

Preferential treatment for developing countries and the least developed countries in trade can help reduce inequalities by creating more export opportunities.
➳ To learn more about the SDGs or Agenda 2030, please visit the official site.
Are these goals AMBITIOUS? Yes.
Are they ACHIEVABLE? Yes, "if we are focused and if we work together."
If the goals are going to work, everyone needs to know about them. You can't fight for your rights if you don't know what they are. You can't convince world leaders to do what needs to be done if you don't know what you're convincing them to do… These goals are for everyone, everywhere.
SO… What does this mean for college students?!
This matters to college students. As cliché as it sounds, we are the future of the world. We are the ones who will be making the changes and working towards these goals. This shouldn't be a burden, however. Rather, it should be welcomed. Why? Because we are the generation most determined to fight injustice and inequality. As President Obama said in his Agenda 2030 speech, it is "our most basic bond– our common humanity— [that] compels us to act." In other words, this bond called humanity is what justifies our "moral outrage" (response) when we see the "profound injustices" of this world. So it's both a privilege and a pledge we have to take seriously.
What can we do as students, right now?
Educate ourselves and educate one another. Spread the word: be attentive and stay involved. Be active. Speak out. Speak up. Believe & hope.
Who knows, maybe we can really be the first generation to end extreme poverty and the last generation to be threatened by climate change.
What do we need?
A right attitude and a positive outlook. In the midst of all the depressing news in our world today, hope is greatly overlooked.
Cynicism is our enemy when it comes to progress and change.
So let's have hope and let's work towards these goals— together— to make a better world.