If you're a writer in college, then there's no better time than the present. Unlike some other professions, writing is a job that can be started while you're a student. Whether you start writing for the school newspaper, your own blog, or as part of an internship, it's important to stay organized. The best way to stay organized is with an online portfolio. Having a portfolio is key for writers who want to be taken seriously. Having all your work in one spot is also a good way to impress someone who is hiring. While most portfolios require a monthly fee, there are a few good portfolios that offer free basic packages.
Here's a list of 4 free portfolio websites for writers.
1. Clippings.me
Clippings.me is the portfolio that I personally use. It's a simple portfolio that gets the job done. The company was started with freelance journalists in mind. You can sign up for a free portfolio, and you will be allowed to create a portfolio with up to 10 clippings. You'll also be able to write a short bio for yourself. For unlimited space, you can upgrade to premium for $5.99/monthly or to unbranded for $11.99/ monthly. Both options offer different features.
Pros: The best feature of this website is how easy it is to set up the portfolio. You simply copy and paste links to add your articles. You can also divide your work into sections and arrange your pieces of work in the order and section that you like, so that your favorite work is featured at the top of the page. A big plus is also the fact that you can add your multimedia work, so any videos or sound clips that you want to share can also be included in your portfolio. This is important for those people who have multiple skills.
Cons: One thing that can be seen as a positive for this website could be viewed as a negative too, and that is its simplicity. Customization is very minimal for this portfolio. You are able to upload a picture as the background for your introduction at the top of your portfolio, but that's about it. The low customizability gives your portfolio a clean look, but it doesn't offer much for those people who want their portfolio to be unique and love showing off their creativity.
2. JournoPortfolio.com
JournoPortfolio.com is similar to Clippings.me, but has more customizable aspects. You are able to add up to 10 articles for the free version. Where Clippings.me uses dividers to separate your sections either by theme or by publication, Journo uses pages. So if you have writing for more than one online publication, you could separate the pieces into different pages inside your portfolio.
Pros: Journo has themes to help make your portfolio stand out. It's easy to add pieces of work by copying and pasting links. You're also able to upload images or pdf files from your computer. A nice feature is the fact that you can also use Journo to start a blog, since it allows you to write pieces directly onto the site. A big plus is also the fact that the upgraded memberships are relatively cheap.
Cons: One drawback when comparing this site to Clippings.me is, you aren't able to add multimedia links onto your portfolio. In this aspect, Journo falls short. Journo also might not be good for someone who doesn't want to focus too much on the aesthetic aspect of their portfolio.
3. Writing.com
Writing.com is like a community for writers to share and critique writing. It's free to sign up, and upon signing up, you'll be able build a portfolio. You'll also have access to other writers' pieces. You're able to monitor the traffic your work gets. There's a newsfeed, you get notifications, and you'll be able to message other users.
Pros: Writing.com is great for creative writers who are looking for feedback. It has a social media type feel. The basic package includes a free portfolio, and the website is easy to use. Writing.com offers a lot to keep writers active.
Cons: Besides the fact that the free portfolio has a limit of 10 pieces of writing, which is standard for most sites, the portfolio falls short in one key aspect. You're only able to provide pieces of writing that are on Word documents. This isn't useful for writers who have most of their work online. I would suggest that only creative writers or poets sign up here.
4. Contently
Contently is a free portfolio website. There are multiple Contently websites that provide different services. The portfolio is easy to make and maintain. Once you sign up, you can get started. Customization isn't a main priority, but the clean and colorful look makes up for that.
Pros: Contently is the only free portfolio website on this list that allows you to post an unlimited number of articles. You're able to download pdf files and copy and paste url links. The big attraction for the site is, if you apply for Contently marketplace and you are accepted, you'll have access to its job board.
Cons: Even though Contently is free, there are some cons. Contently is the least customizable portfolio out of all the sites on this list. Also while it's true that you just copy and paste a link for your article, the image for your article doesn't automatically appear with your article. Contently has an extra step where you have to upload the image separately if you want your article to appear with a picture. This can feel tedious after a while. There's even a drawback if you get into the Contently marketplace. If you find a job through its site, Contently charges a 15% agent's fee for helping you find the job.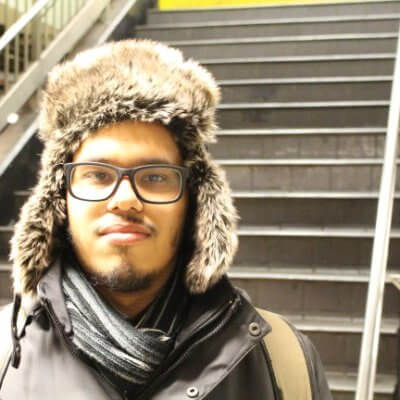 Brian Bonilla is a Journalism and Marketing student at Brooklyn College. When it comes to sports he's an expert watcher and a mediocre player. When he's not busy catching up on shows or writing scripts he's probably telling people to watch The Americans on FX.